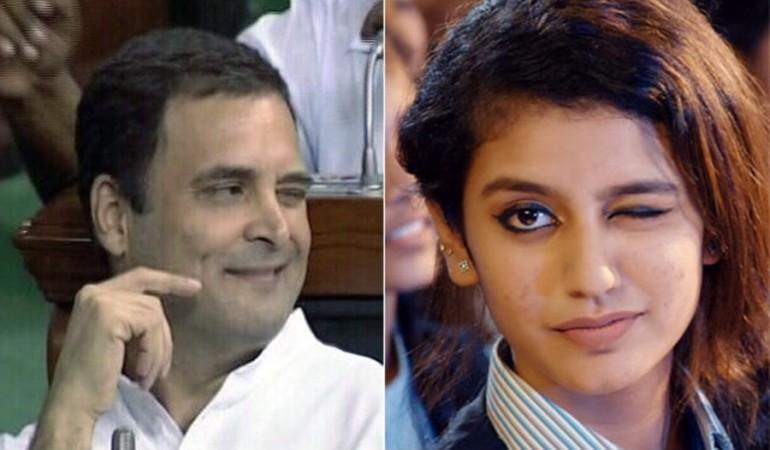 Congress President Rahul Gandhi became an internet sensation when he surprised Prime Minister Narendra Modi with a hug and a wink during the no-confidence debate in the Lok Sabha on Friday, July 20.
The pictures of the politician have now gone viral with Twitter users drawing parallels with Malayalam actress Priya Prakash Varrier who became an overnight internet star with her winking act in Manikya Malaraya Poovi son from her debut film Oru Adaar Love. And it looks like Rahul Gandhi's wink has managed to floor Priya Prakash.
Reacting to Rahul Gandhi's wink in Parliament, Priya Prakash said that she got the news about the Congress President winking at PM Modi after she came back from college. She added that it was a sweet gesture on Rahul Gandhi's part.
The 18-year-old also expressed her happiness that the politician imitated her signature move.
Twitter users were quite abuzz with Rahul Gandhi's hug and wink and immediately got obsessed with it and turned it into hilarious memes.
Check out Priya Prakash Varrier's reaction on Rahul Gandhi's wink here:
Meanwhile, targeting Congress President Rahul Gandhi for levelling "baseless allegations" against the government on the Rafale deal in his speech during the no-confidence motion in the Lok Sabha on Friday, the BJP has moved a privilege motion against him.
"While participating in the discussion, he made serious, baseless and wild allegations against the government and particularly against the Prime Minister with regard to Rafale deal," said a statement from Bharatiya Janata Party (BJP) MP Prahlad Joshi.
Gandhi, during his speech, said the price per plane during the United Progressive Alliance (UPA) regime was Rs 520 crore but when Prime Minister Narendra Modi went to France and due to "some magic powers", the price per plane rose to Rs 1,600 crore.
"He (Gandhi) stated that under pressure from the PM, (Defence Minister) Nirmala Sitharaman told lies to the nation. He further alleged that the PM cheated his own army on dealing with China on Doklam issue," it added.
"...(Rahul Gandhi's) statement was baseless, malicious and amounting to bring disrepute to the PM and the Defence Minister, it was made to mislead the Members and the House," it noted.
(With IANS Inputs)