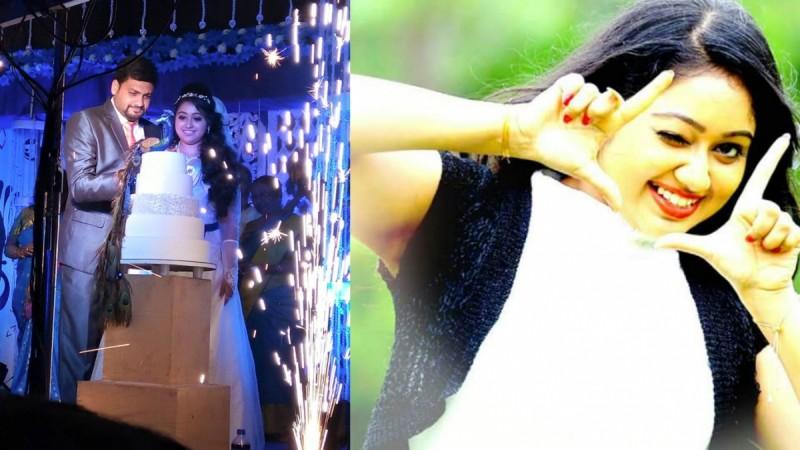 Meghna Vincent became a familiar face for television audience in Kerala for portraying the role of Amrutha in the popular Malayalam serial, Chandanamazha, aired on entertainment channel Asianet. In 2015, the actress hit the headlines and became the victim of memes on social media for a gaffe she had made during an election campaign for a BJP candidate in Aruvikkara constituency.
Also read: Meghna Vincent reacts to rumours on her exit from Chandanamazha
Now, the actress' name has started trending again, this time for her pre-wedding video that is all set to become the most disliked video on YouTube India. The one-minute-33-second video begins with her preparing to kick a goal with her husband Don as goal keeper, but in what the makers meant to be funny, the actress is seen kicking his b***s with the football.
At the time of reporting, the video has been trending on 29th position on YouTube, but all due to the negative response it has been garnering from the netizens. While it has been disliked by 35,082 people, just 550 social media users have liked it so far. Meanwhile, netizens have also found out that the video theme of Meghna is in fact copied from the pre-wedding video shoot of another couple in 2015. Similar is the case with actress' another pre-wedding video, which also gets not-so -welcome comments from the social media users.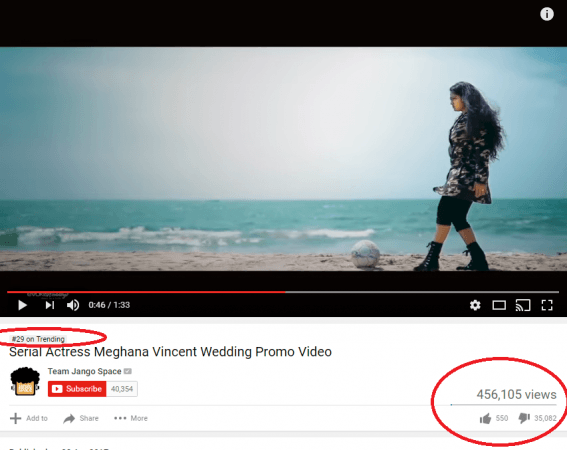 Meghna and Don entered wedlock in a grand ceremony at St Francis of Assisi Cathedral in Ernakulam on April 30. Meanwhile, Don's sister and actress Dimple Rose got hitched to Kochi-based businessman Anson Francis on April 26.
In 2015, the "dumb" statements made by Chandanamazha actress had gone viral after she had mentioned that she can easily apply make-up inside her car while travelling through foreign countries like Dubai, and cities like Chennai and Mumbai" compared to the roads in Kerala, specifically Aruvikkara. Following this, the then Kerala Chief Minister Oommen Chandy had responded asking her to apply make-up in a studio and not in her car.
Here is the viral wedding promo videos of Meghna and Don:
Check out the viral memes doing the rounds on social media based on Meghna's pre-wedding video here:
GP checking YouTube and thinking: "Oh God, will she break my Thengakola video's record?"
Picture 1: Siddique as the wedding video expecting to get good number of likes on YouTube.
Picture 2: After
Picture 1: What would be the name of the Malayalam actor, if a video has to trend on YouTube?
Picture 2: Mammuka
Picture 3: Lalettan
Picture 4: Amrutha of Chandanamazha
Picture 1: Salim Kumar saying: "This is not the old innocent Meghna. This is Al Meghna, who is shocked seeing the number of dislikes for her own video.
Picture 1: Hey, are you ready?
Picture 2: Come one dear. I am ready
Picture 3: Catch it
Picture 4: Oh!!!