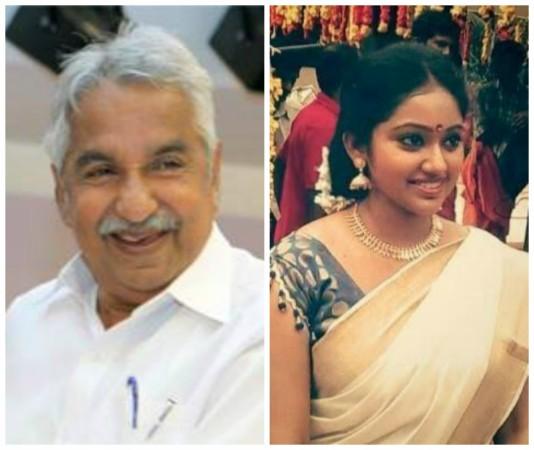 After the "dumb" statements by television actress Meghna Vincent aka Amrutha of "Chandanamazha" serial went viral, here is Kerala Chief Minister Oommen Chandy's reply to the actress.
Check LIVE UPDATES of Aruvikkara by-election here
Chandy has replied on the actress' reactions on the poor conditions of the roads in Aruvikkara. During the election campaigns for BJP candidate O Rajagopal, the actress had mentioned that compared to "other countries like Dubai, Chennai and Mumbai", she cannot apply make-up inside her car when she is in Aruvikkara.
'Chandanamazha' Actress Meghna Vincent aka Amrutha Trolled on Social Media
Now, the CM has asked the actress to apply her make-up in a studio and not in her car.
"The ones who are coming for election campaigns need not have to apply make-up. For shooting, they can do the make-up in a studio. There is no problem even if there is some mud when you come for electioneering," Chandy said to reporters hinting at the actress in Thiruvananthapuram on Thursday, 25 June.
The UDF leader has also mentioned that he will take action against the party workers who allegedly attacked the media persons for taking photographs of the bad conditions of the roads during the election campaigns by the ministers.
Meanwhile, a photo of the potholes in Aruvikkara has been doing the rounds on social media.
Kerala CM @Oommen_Chandy moving thru d world class road in d Aruvikkara constituency where by election is being held pic.twitter.com/wrc3vi2hud

— Jay (@jaypanicker) June 24, 2015
Kerala is set to witness a highly charged political contest in Aruvikkara by-election on Saturday, 27 June. G Karthikeyan's son KS Sabarinathan, M Vijayakumar and O Rajagopal are competing each other representing the parties UDF, LDF and BJP, respectively.
Watch Oommen Chandy's response on the Meghna Vincent's comments below: