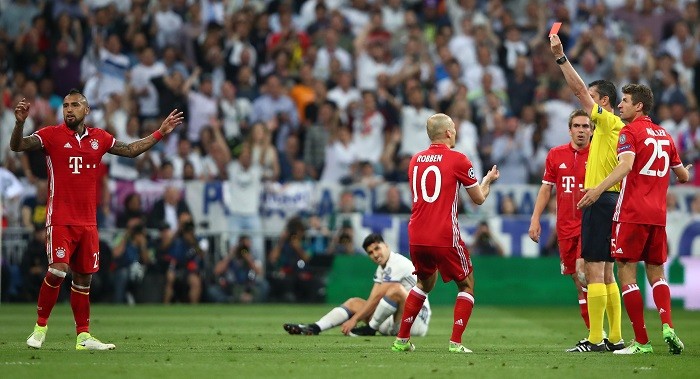 Two offside goals, both scored by Cristiano Ronaldo, and a red card that never was – Bayern Munich, to use their midfielder Arturo Vidal's words, were "robbed" of a place in the Champions League semifinals on Tuesday.
After fighting back brilliantly to level the aggregate scores at 2-2, with the away goals also on level pegging, Bayern were landed a huge blow by Viktor Kassai, when the referee decided to show a second yellow card to Vidal, despite the midfielder clearly getting the ball in a tackle that wasn't even really a tackle, with the Real Madrid man running in and tumbling over the Chilean.
That decision, and what an extraordinarily poor decision it was, naturally, changed the course of the game completely, with Real Madrid, eventually, wearing Bayern down to score three more goals to complete a 6-3 aggregate victory.
But then, two of those goals, the first two scored in extra time, were highly controversial, with Ronaldo offside on both occasions.
Bayern, expectedly and indeed understandably, spoke about the controversial decisions that turned the game Real's way, with Vidal, in particular, peeved at his sending off.
A certain Frenchman would have been watching this match in his living room (or from the ground, if he was doing some broadcast work for French television) and shaking his head at the change in fortunes, with that word "Karma" probably coming into his mind a few times as well.
It was a few weeks ago that Arsene Wenger railed against the referee's decisions that had completely shut out any chances his Arsenal team might have had against this very Bayern Munich side in the second leg of the Champions League last 16.
Arsenal were extremely unlucky to see Laurent Koscielny given a red card – after the referee had initially only given a yellow – with Bayern then taking full advantage of the extra man to embarrass the Premier League side, who went on to lose 10-2 on aggregate.
The Gunners were also denied what looked like a penalty in the first half, when Theo Walcott was brought down inside the box, but, again, Bayern had the rub of the green in that particular match.
Now, nobody is saying the result would have been any different and Arsenal would have somehow, miraculously, pulled off the most stunning of come-from-behind wins against Bayern, had those calls gone their way.
But, it does make one wonder, how Bayern feel when at one point they were the ones getting all the calls going their way and now the shoe is firmly on the other foot, with the Germans the aggrieved team.
Too many times the referees have decided the outcome of what could have been/is/was a cracking game.
There is no way, from any angle, Vidal would have been shown a yellow card had the Video Assistant Referee (VAR) system been in use for this Champions League game.
Of course, the cynics and Bayern fans will say there is no way any referee, with two proper eyes, would have shown that second yellow to the Bayern man.
But then, any doubts, any controversy, any cry over "foul play" and "agendas" can be taken out completely with VAR. All it would have taken the video assistant referee would have been a few seconds to decide that this wasn't a yellow card, wasn't even a foul – the same could be said of the last 16 match as well – and even before Vidal and the rest of the Bayern players had finished their complaining to the referee, the decision could have been made.
With 11 vs 11, Bayern might have still ended up losing to Real, but at least it would have been fair and, hey, Ronaldo might not have been as free to run through from offside positions, with all 11 players on the pitch for the Germans.
Too many times, bad decisions, awful decisions, difficult decisions from the referees have a telling effect on the game – just ask PSG in that Barcelona match, when Luis Suarez showed off his Olympic-level diving skills – and all that can be cut out with a little use of the technology.
However, some will say, how boring football would be without controversy and others will cry about the flow of the game being interrupted.
If you are a Bayern fan, though, at the moment, or an Arsenal fan a few weeks back or a PSG one, you wouldn't feel that way.
Wenger, a staunch supporter of using technology in football, will still have that wistful feeling when he comes in for training on Wednesday, and being the optimist that he is, he might have even envisaged beating Bayern in that second leg, scoring enough goals to go through and then topping Real Madrid in the quarterfinals, as Arsenal make a searing run all the way to the final.
But then that "If only" feeling is something that every single football club in the world and their fans have had at some point or the other, and surely minimising the need for that feeling is the way to go.
Watch the Real Madrid vs Bayern Munich highlights HERE and below