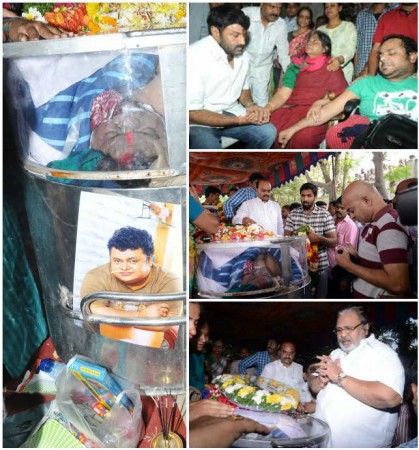 The cremation of ace music director Chakri, who died of cardiac arrest on 15 December, was held at Panjagutta in Hyderabad on Monday evening and Balakrishna, SP Balasubrahmanyam (SPB), Baba Sehgal and many other Tollywood celebrities came to pay their respects.
Chakri's wife reportedly tried to wake him up on Monday morning and panicked when he did not respond. She rushed him to Appolo Hospital, where he was pronounced dead. He died of a sudden heart attack. His body was brought back to his Banjara Hills residence. His untimely death has left his family members in shock.
Born in Kambalapalli in Warangal district on 15 June, 1974, Chakri began his career with private music albums and later forayed into Tollywood with Puri Jagannadh's "Bachi" in 2000. In his career spanning 15 years, he composed music for 85 movies and churned out many hit albums. He even won the prestigious Filmfare and Nandi awards.
The mortal remains of Chakri were kept for public darshan at the Film Chamber of Commerce in Hyderabad. His brilliant work has earned him a huge fan base across the globe. Thousands of fans visited the chamber and paid their last respects.
The sudden death of Chakri has shocked many in the industry. A host of stars such as Balakrishna, Manchu Vishnu, SP Balasubramanium, Baba Sehgal, Boyapatti Sreenu, Rajsekhar, Bhashkarabhatla, Tammareddy Bhardwaj, Dasari Narayan Rao, Srinu Vaitla and Suresh Babu offered condolences to his bereaved family members - his mother, brother and wife.
The final journey of Chakri started from the film chamber and his body was taken through a procession to the Panjagutta Crematorium, where his mortal remains were put to rest as per his family tradition in the evening.