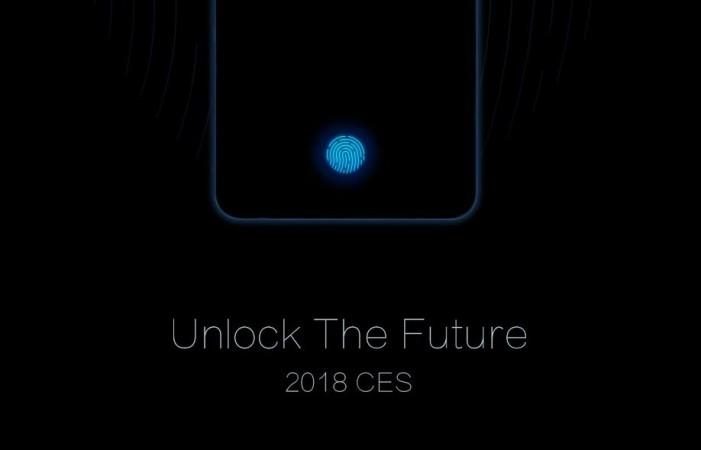 Chinese smartphone-maker Vivo demoed in-display fingerprint sensor on a mobile at the ongoing Consumer Electronics Show (CES) 2018 in Las Vegas on January 9.
This game-changing feature is not only fool-proof but also offers an opportunity for OEMs (Original Equipment Manufacturers) to come up with creative designs for the phones.
Current models come with a physical sensor, which occupies a significant portion of the front panel resulting in unsightly thick bezels. Whereas others, just trans-locate the fingerprint scanner to the back, either beside the primary camera or below it, either way there are more chances of users accidently touching the lens-cover and leave sweaty smudges on it, resulting in distorted images.
However, Vivo's new revolutionary technology will allow company to develop slimmer handsets as they will no more need additional space to incorporate separate module like for the metal-based finger-print sensor.
The use of glass will also help the manufacturer to make the phone water-proof (IP68 or beyond), as well.
"With our efforts in extensive consumer research and long-term R&D investment, Vivo is well positioned to pioneer the development of fingerprint scanning technology. We first presented a prototype of our fingerprint scanning solution at MWC Shanghai 2017 based on an ultrasonic sensor, and have remained committed to realizing our vision for future smartphones, Alex Feng, Senior Vice President of Vivo, said in a statement.
"Today's showcase of a ready-to-produce in-display fingerprint scanning smartphone featuring an optical fingerprint sensor is a big leap forward in bringing consumers this long-awaited, futuristic mobile experience. We are very excited to make it available to consumers soon," Feng added.
The company also announced that Vivo-branded phone with in-display fingerprint sensor will debut in the first quarter of 2018 (before March 31).
In a related development, US-based Synaptics too has announced to have developed similar in-screen fingerprint scanner, but there are no details who will be using their biometric technology in their phones, other than the fact that it is one of the top five smartphone brands in the world.
Stay tuned. Follow us @IBTimesIN_Tech on Twitter for the latest news on CES 2018 and technology.