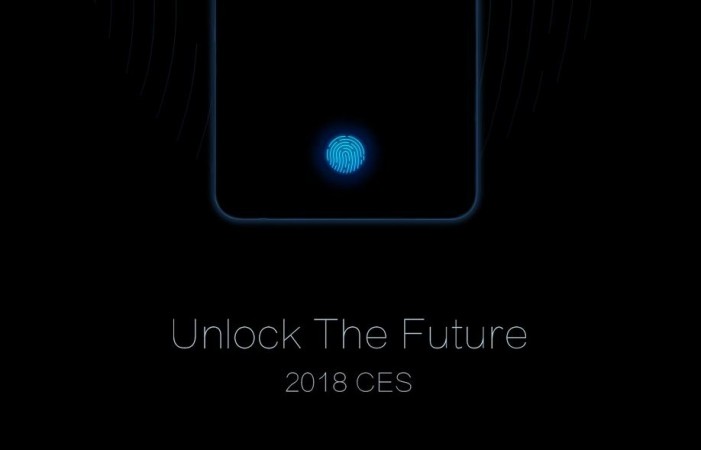 Major players in smartphone segment are coming up with new devices that boast groundbreaking features, ranging from bezel-less displays and virtual reality to futuristic facial recognition. But one particular piece of technological feat that no smartphone manufacturer has been able to achieve until now is a working in-display fingerprint sensor.
While Samsung has long been rumoured to be working on its own display-mounted fingerprint sensor, Apple finally shifted its entire focus to facial recognition-based FaceID after it had apparently failed to perfect its own.
China's Vivo, however, is almost ready to leapfrog both the tech giants in this regard. The company, which was previously speculated to become the first smartphone maker to materialise the in-display fingerprint sensor, hinted on Monday that it could indeed introduce some feature along those lines.
Vivo took to Twitter to announce that it would unveil "something revolutionary" which would "unlock the future" at CES 2018. Although the company didn't say anything else in the tweet, the teaser image of a phone with an illuminated fingerprint icon on the bottom of the display clearly suggests that the announcement has to do with the long-awaited in-display fingerprint sensor.
California-based Synaptics, which specialises in biometric security technology, announced its Clear ID FS9500 optical in-display fingerprint scanner for smartphones in December.
The company announced at the time that its technology allows users to unlock the device even when it's sitting on the table at an awkward angle, or while in a car mount. The Clear ID sensor, which is water and scratch resistant, can also reportedly be used with wet, dry and cold fingerprints.
Synaptics also revealed that its in-display fingerprint sensor comes with PurePrint anti-spoof technology to validate fingerprint images using unique artificial intelligence technology to distinguish between spoofs and actual fingers.
"Synaptics' Clear ID fingerprint sensors are faster, more convenient, and more secure than alternative biometrics, and this optical technology represents a major innovation shift and opportunity for the smartphone market," Kevin Barber, senior vice president and general manager of Synaptics' mobile division, said in a statement.
Synaptics even revealed that its in-display fingerprint scanner would be featured in a future smartphone produced by a "top 5 smartphone" manufacturer. Although it didn't name any company, rumours are rife that it could be Vivo.
A recent report by Forbes said that Vivo's upcoming phone will be shipped with Clear ID in-display fingerprint sensor. Interestingly, Synaptics also tweeted that report without offering further details.
While the forthcoming Vivo smartphone with an in-display fingerprint sensor is still being speculated, some reports have suggested that it could be Vivo X20 Plus UD, with "UD" standing for Under Display.
The phone is rumoured to feature a 6.43-inch full-screen display with 18:9 aspect ratio, Snapdragon 660 processor, 4GB/6GB RAM and 3,905mAh battery.