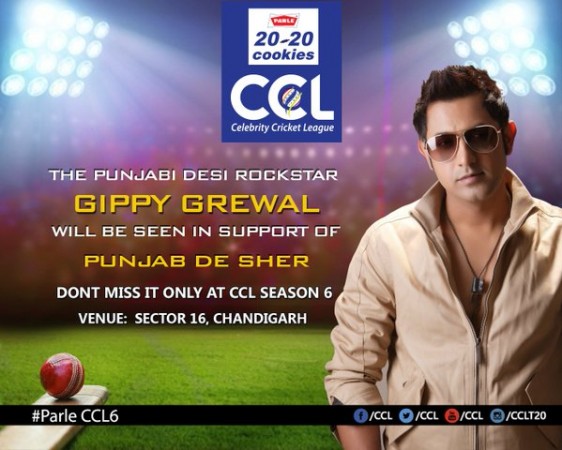 Punjab De Sher will be clashing with Bengal Tigers in their third match of the Celebrity Cricket League 6. The match will be held at Sector 16, Chandigarh, on Saturday, 6 February.
The Punjab team are virtually out of CCL 6, whereas the Bengal team still have a chance to qualify for the next round. Hence, Bengal Tigers are expected to leave no stone unturned to win the match. For Sonu Sood's team, it is the matter of pride and he will be hoping to register the first win in the tournament.
Punjab De Sher are the new entrant to CCL. In the first game, they lost to Mumbai Heroes by 97 runs. In their second match, they was defeated by Bhojpuri by five wickets.
On the other hand, the Bengal team lost their first match against Bhojpuri Dabanggs by 68 runs but defeated Mumbai Heroes by 32 runs in its next match.
The match between Punjab De Sher and Bengal Tigers starts at 7 pm and will be aired on PTC Punjabi and Kolkata TV. Here we bring to you live score updates of the match:
Bengal Tigers defeated Punjab De Sher by 25 runs. Firstly, they fantastically batted to put 224 runs on board. Yusuf's amazing century remains the highlight of their innings. On their turn, the Bengali bowlers too bowled well as they picked wickets at regular intervals.

However, Punjab De Sher is out of the CCL 6 without registering a single win. While the performance of their bowlers were not impressive in this match, the batting did not live up to the expectations. The only silverline of their innings is Sandhu's brilliant 68 runs, which came from only 18 balls.
Second Innings Live Update:
Punjab De Sher
Runs
Balls
Gulzar
lbw b Jisshu
30
27
N Hans
c Joy b Vievek
8
4
J Gill
c Joy b Jisshu
32
29
B Rai
st Yusuf b Sandy
39
35
S Sood
c Jisshu b Uday
2
3
H Sandhu
not out
68
18
D Kharoud
not out
8
4
G Ghuggi
B Dhillon
G Chahal
A Sapru
Total: 199-5
Extras
12
Bowling Card
Name
Overs
Dots
Runs
Wickets
Economy
Vievek
3
8
34
1
11.33
Manty
4
10
25
0
6.25
Jisshu
4
13
22
2
5.50
Uday
4
4
51
1
12.75
Sandy
3
8
21
1
7.00
Mohan
2
2
43
0
21.50
Bengal Tigers win the match by 25 runs.
Sandhu hits four 6s and one 4 from the 20th over. 28 runs come from that over.
Rai goes for 39 (34). 171-5 in 19 overs.
150 comes for Punjab De Sher. 15 runs come from 18th over.
Mohan is brought into the attack. 77 required from 18 balls.
The target seems to be going out of reach for the Punjab team. Score: 148/4 in 17 overs.
Sonu Sood is gone. The Punjab team has lost its fourth wicket.
The Bengal Tigers pick the third wicket of Punjab De Sher in the form of Jassie Gill. 102/3.
After 12 overs, the Punjab team have made 100 runs.
83/2 in 10 overs. The Punjab team need 142 runs in 58 balls.
The Punjab team requires 125 runs from 48 balls.
Punjab De Sher are struggling at 73/2 in 9 overs.
The Punjab team requires 175 runs from 78 balls.
Bengal Tigers pick their second wicket in the form of Gulzar 30 (27).
After six overs, Punjab De Sher have made 47 for the loss of one wicket.
A good over from Bengal Tigers. 43-1 in 5 overs.
14 runs come from 4th over. Gulzar is the man, who is getting runs for Punjab De Sher. 40-1.
Gill is the new man into the crease. Score: 26-1 in 3 overs.
The Punjab team lose its first wicket in the form of Navraj Hans 8 (4).
Gulzar and Hans open the innings for Punjab De Sher. Score: 8/0 in 1 over.
Bengal Tigers have put 224 runs on board for the loss of three wickets. The highlight of the innings is undoubtedly Yusuf's knock. He scored 102 from 50 balls. He was well-supported by Jisshu. Sonu Sood and Dhillon bowled well but other bowlers were too expensive from Punjab De Sher.
First Innings Live Update:
Bengal Tigers
Runs
Balls
Joy
c Rai b Sood
38
20
Indrasish
run out (HANS)
26
20
Vievek
lbw b Dhillon
2
4
Yusuf
not out
102
50
Jisshu
not out
39
29
RD
Suman
Uday
Mohan
Sandy
Manty
Total: 224-3
Extras
17
Bowling Card
Name
Overs
Dots
Runs
Wickets
Economy
H Sandhu
4
9
51
0
12.75
J Gill
4
5
57
0
14.25
S Sood
4
6
34
1
8.50
B Dhillon
4
14
33
1
8.25
B Rai
2
3
27
0
13.50
G Chahal
2
1
22
0
11.00
Standing ovation for Yusuf from his team mates.
The Bengal team ends their innings at 224/3. 24 runs come from the last over.
Yusuf hits a century from 49 balls. What a stunning innings from him.
Bengal Tigers score 20 runs from 19th over. Three 4s and one 6 come from that over.
11 runs come from that over. Score: 180-3 in 18 overs.
25 runs come from last two overs. 169-3 in 17 overs. Yusuf: 54 (35), Sengupta: 33 (26).
Bengal Tigers will be targeting 200 runs. They need 56 from 30 balls to reach the mark.
Yusuf and Sengupta have responsibly batted to bail out the Bengal team from crisis after losing 3 wickets in a succession. 144-3 in 15 overs.
Bengal Tigers are going good at this stage. 15 runs come from 14th over. 130-3.
13 runs come from that over. 115-3 in 13 overs.
The Bengal team are at 102-3 in 12 overs.
The Bengal team crosses the 100 mark.
7 runs come from 10th over. Score: 90/3.
After 9 overs, the score is 83/3.
One more wicket gone. Two wickets in one over. Score: 75-3 in 8 overs.
Vievek is out. The Bengal team loses its second wicket. Score: 70-2 in 7.1 overs.
The Punjab team picks their first wicket. Joy goes for 38 (20). Score: 67-1 in 6.2 overs.
Joy and Indrasish are accelerating the run rate. Three boundaries come in 6th over. Score: 64-0.
Bengal Tigers score 13 runs from fifth over. Joy 24 (14), Indrasish 22 (17). 48/0.
Joy and Indrasish have given a decent start to Bengal Tigers. Score: 35/0 in 4 overs.
7 runs come from the third over.
10 runs come from the second over. Score: 17/0.
The Bengal team scores 7 runs from its first over.
Bengal Tigers won the toss and elected to bat first.
Punjab De Sher Squad:
Sonu Sood, Jimmy Shergil, Ayushmann Khurrana, Gurpreet Ghuggi, Binnu Dhillon, Jassi Gill, Rahul Dev, Gavie Chahal, Dev Kharoud, Gulzar Chahal, Babbal Rai, Mika Singh, Aryaman Sapru, Navraj Hans, Yuvraj Hans and Mukul Dev.
Bengal Tigers squad:
Jisshu, Dev, Rahul, Amitabh, Joy, Suman, Uday, Vinaayak, SRV, Indrasish, Yousuf, Debraj, Raja, Mohan, Sandy and Saugata.