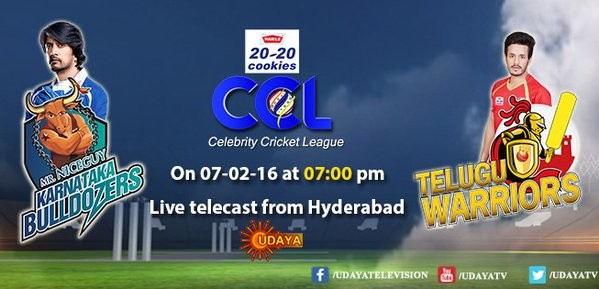 Kerala Strikers take on Chennai Rhinos in their third match of Celebrity Cricket League (CCL) 6 on Sunday, 7 February. In the second match of the day, Karnataka Bulldozers clash with Telugu Warriors. Both matches will be played at Uppal Stadium, Hyderabad.
Telugu Warriors vs Karnataka Bulldozers Live Score Card | Click Here for Match Photos

While Telugu Warriors have entered the semi-final stage with two wins, the remaining teams are fighting hard to enter the next stage of CCL 6. The Tollywood team has defeated Kerala Strikers and Chennai Rhinos in their two matches.
Kerala Strikers and Karnataka Bulldozers have won and lost one match each, and Chennai Rhinos are yet to register their first victory in the CCL 6.
First Match: Chennai Rhinos vs Kerala Strikers
Timings: 2-6 pm
TV Channels: Sun TV and Surya TV.
Chennai Rhinos squad:
Arya, Jeeva, Vishnu, Vikranth, Ramana, Prithvi, Shanthnu, Ashok, Balaji, Sharan, Sanjay, Bharath, Bose, Shaam, and Uday.
Kerala Strikers
Mohan Lal, Asif Ali, Unni Mukundan, Rajeev Pillai, Bineesh Kodiyeri, Manikuttan, Arjun Nandakumar, Manty, Vinu Mohan, Suresh Nair, Prajodh Kalabavan and Riyaz Khan.
Second Match: Telugu Warriors vs Karnataka Bulldozers
Timings: 7-11 pm
TV Channels: Udaya TV and Gemini TV.
Telugu Warriors Squad:
Akhil Akkineni, Aadarsh, Nanda Kishore, Nikhil, Raghu, Sachin Joshi, Samrat, Srikanth, Taraka Ratna, Tarun, Vishwa, Prince, Sushanth, Dharam and Khayyum.
Karnataka Bulldozers squad:
Sudeep, Darshan, Rajeev, Tharun Chandra, Tarun Sudhir, Dhruv, Vishwas, Pradeep, Rahul, Chetan, Dharma, Sunil Rao, Jayram Karthik, Abhimanyu, Mahesh, Rajesh and Mayur Patel.