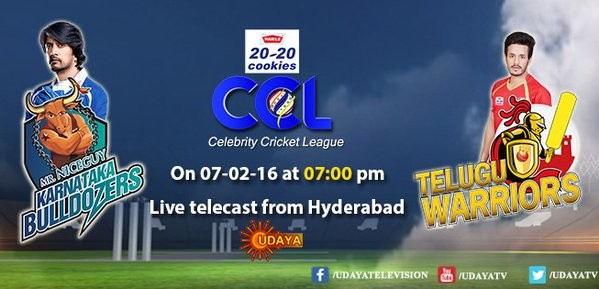 Telugu Warriors, which is in its prime form, will be clashing with two-time champions Karnataka Bulldozers in the last match of the league stage in Celebrity Cricket League (CCL ) 6. It is played at Rajiv Gandhi International Stadium, Uppal, Hyderabad.
Watch Telugu Warriors vs Karnataka Bulldozers Online | Click Here for Match Photos
The Tollywood has won both the matches that it played in the CCL 6. In its first match, it convincingly beat Kerala Strikers by 5 wickets. In their next match, Telugu Warriors defeated Chennai Rhinos by 8 wickets.
On the other side, Karnataka Bulldozers had a mixed tournament so far by winning and losing one match each. In its opening match, the Sandalwood team defeated Chennai Rhinos by 83 runs. But the Kannada team lost its next match against Kerala Strikers by 6 wickets. In order to enter the next stage, it has to win this match.
The match between Karnataka Bulldozers and Telugu Warriors starts at 7 pm and will be aired on Uday TV and Gemini TV. Here we bring to you live score updates of the match:
Karnataka Bulldozers has defeated Telugu Warriors in the nail-biting match by 5 runs. The Sandalwood team had almost lost the match but Jayaram Karthik's brilliant last over ensured that the Sandalwood team win the match and enter the semi-final stage along with the Tollywood team.

Ashwyn Babu played a fantastic knock that almost won the match for Telugu Warriors. The Tollywood team maintained good run rate throughout the game and Sudhir Babu too contributed well with the bat.

When it comes to the bowling department, Mahesh is the pick of the bowler from Karnataka Bulldozers for his brilliant spell where he picked 3 wickets from 4 overs, which cost 31 runs.

After losing the toss, Karnataka Bulldozers was asked to bat first. The first 10 overs were under the control of Telugu Warriors. But in the next 10 overs, the Sandalwood team dominated the game as it scored 143 runs, which became the game-changing factor.
Telugu Warriors
Runs
Balls
S Joshi
c Karthik b Sharma
16
11
Babu
c Prasanna b Mahesh
49
35
Tej
c Karthik b Mahesh
26
16
A Akkineni
c Pradeep b Mahesh
17
15
Ashwyn
run out (Sudeep)
74
30
N Kishore
not out
12
14
Tarun
not out
0
1
R Raghu
Samrat
Prince
Harish
Total: 204-5
Extras
10
Bowling Card
Name
Overs
Dots
Runs
Wickets
Economy
J Karthik
3
8
26
0
8.67
Pradeep
4
7
35
0
8.75
S Rao
2
6
16
0
8.00
D Sharma
3
4
45
1
15.00
Mahesh
4
12
31
3
7.75
Prasanna
4
4
48
0
12.00
Second Innings Live Update:
What a game of cricket. The Sandalwood team held their nerves to win the match in the end. Jayaram Karthik is the hero of the game for bowling the last over.
Karnataka Bulldozers beat Telugu Warriors by 5 runs.
Out. Ashwyn is gone for 74 (30). 7 required from 1 ball.
Oh, man what an match it is turning out to be. 2 balls 8 runs.
8 required from 3 balls.
One run scored. Now, 10 from 4 balls.
Nanda Kishore on strike. Karthik balls the last over. Now, 11 required from 5 balls.
11 required from last over. The match is heading towards nail-biting finish. Score: 199-4.
13 required from 8 balls.
19 required from 11 balls.
What an over for Telugu Warriors at ths stage. 24 runs scored.
Dhruv is brought into the attack. 14 runs scored in 3 balls. 30 required from 15 balls.
It was a good over from the Karnataka team at this stage. Telugu team require 44 from 18 balls.
Telugu Warriors need 46 from 20 balls.
Karnataka Bulldozers badly need wickets now to be in the game.
15 runs come from that over. Score: 161-4 in 16 overs. Telugu Warriors need 49 from 24 balls.
Ashwyn hits two back-to-back six. He reaches 36 in 12 balls.
Telugu Warriors need 64 from 30 balls.
A tough catch was dropped by Prasanna. 13 runs scored from that over. Score: 146-4 in 15 overs.
Ashwyn is on fire. Hits a six.
8 runs come from that over. Score: 133-4 in 14 overs.
Karnataka team is doing some good job on field.
85 required from 40 balls. Score: 125-4 in 13.2 overs.
It was a fantastic over for Karnataka Bulldozers. They picked up two wickets and only two runs came from that over. Score: 117/4 in 13 overs.
Telugu Warriors lose one more wicket. Set batsman Sudhir Babu is out for 49 (35).
Ashwyn is the new man into the crease. The Tollywood team requires 95 from 46 balls.
Akhil is gone for 17 (14). Karnataka team picks the wicket at the crucial wicket. Score: 115-3 in 12.2 overs.
Karnataka Bulldozers need wickets. Score: 115-2 in 12 overs.
4 runs come from 11th over. Score: 106-2. Telugu Warriors require 104 from 54 balls.
10 overs completed. Score: 102/2.
100 comes for Telugu Warriors. First fifty came from 29 balls and the second from 30 balls.
12 runs come 9th over. Score: 94-2. Telugu Warriors need 116 in 66 balls.
Captain Akhil is the new batsman.
Mahesh is brought into the attack. He picks the second wicket. Tej is gone for 26 (16).
Telugu Warriors score 10 runs from that over. Score: 82-1. They need 128 from 78 balls.
11 runs come from 7th over. 72-1.
10 runs come from sixth over. Score: 63/1. Telugu Warriors require 147 runs in 84 balls.
Now, Babu sends the ball out of the boundary. Score: 59-1 in 5.1 overs.
Tej opens his account with a four followed by a six. Score: 53-1 in 5 overs.
Joshi is gone for 16 (11). Karnataka Bulldozers got the much-needed breakthrough. Score: 42-1in 4.1 overs.
6 runs come from Sunil Rao's over. Score: 42/0 in 4 overs.
This is the kind of start that Telugu Warriors had wanted. They should continue the momentum.
17 runs come from third over. One six and two fours come from that over. Joshi: 16 (10), Babu 18 (10). 36-0.
The Tollywood team get 14 runs from the second over. It is a good start. Score: 19/0.
Telugu Warriors hit 5 runs in the first over.
Joshi hits a four. Telugu Warriors need such boundaries in every over.
Sudheer Babu and Sachin Joshi to open the innings for Telugu Warriors. Jayram Karthik to bowl the first over.
Karnataka Bulldozers have put on 209 runs on board. The Sandalwood team, which struggled in the first 10 overs, hit 143 runs in the next 10 overs! Dhruv Sharma and Pradeep played great knocks that changed the course of the game. From Telugu Warriors' point of view, the bad fielding cost them big time.
First Innings Live Update:
Karnataka Bulldozers
Runs
Balls
Pradeep
not out
82
56
Sudeep
c Samrat b Joshi
11
20
D Sharma
c Prince b Ashwyn
74
38
H Rajeev
not out
19
6
Vishwas
Rahul
Prasanna
S Rao
J Karthik
Mahesh
Prathap
Total: 209-2
Extras
23
Bowling Card
Name
Overs
Dots
Runs
Wickets
Economy
R Raghu
4
16
19
0
4.75
Prince
2
5
20
0
10.00
S Joshi
4
9
51
1
12.75
Ashwyn
4
7
44
1
11.00
Samrat
2
2
18
0
9.00
N Kishsore
4
4
53
0
13.25

Telugu Warriors Squad:Pradeep ends the first innings with a six in the last ball. Score: 209/2 in 20 overs.
200 comes for Karnataka team. 4 balls to go.
Rajeev hits a six with four balls to be bowled in the 20th over. Score: 199/2.
15 runs score from that over. Score: 192-2
Rajeev hits a six and a boundary. Score: 191-2 in 18.4 overs.
It was a good over by Ashwyn. He gave only 3 runs and picked Dhruv's wicket.
Dhruv Sharma is gone for 74 (38). He was dropped at 10 and he went to to score huge runs for the Kannada team. Score: 177-2 in 18 overs.
The Sandalwood team has scored 108 runs from last 7 overs!
11 runs score from 17th over. Score: 174-1.
What an over it has turned out to be for Karnataka Bulldozers. They score 30 runs come from 16th over. Four '6' and one '4'. Score: 163-1
12 runs come from 15th over. Score: 133-1.
16 runs come from 13th over. Karnataka Bulldozers have scored 43 runs from the last three overs. Dhruv 30 (21), Pradeep: 55 (37).
Pradeep gets one more life. Fielding has been pathetic today by Telugu Warriors
The Sandalwood team is getting easy runs here. Too many wides.
100 comes for Karnataka Bulldozers. First 50 came from 46 balls and the second from 27 balls.
Nanda Kishore is given the ball. He starts off with a wide.
14 runs come from 12th over. From the last two overs, Karnataka Bulldozers have scored 30 runs. Score: 97-1.
It's raining sixes for Karnataka Bulldozers. Pradeep hits the latest one to cross 50 runs.
Dhruva hits two back-to-back six. Telugu Warriors paying price for the dropped catch. 17 runs scored from 11th over. Score: 83-1.
Now, Dhruv gets a life. An easy catch is dropped by the wicket keeper.
The first 10 overs is dominated by Telugu Warriors. Karnataka Bulldozers have score only 66 for the loss of 1 wicket.
The Sandalwood team should keep its foot on accelerator.
Ashwyn is brought into the attack. 9 Runs come from that over. Score: 62-1 in 9 overs.
That was a good over for Karnataka Bulldozers. 12 runs scored. Score:53-1 in 8 overs.
Pradeep hits second six of the match. A couple of such shots will change the course of the game.
The Sandalwood team should target 175+ to win the match.
Telugu Warriors are keeping the situation under the control by not giving away too may runs. Score: 41-1 in 7 overs.
Dhruv Sharma has to contribute big to ensure that Karnataka Bulldozers not only win the match but also enter semi-final.
It is a good over from Joshi, who gave only 2 runs and picked a wicket. Score: 38-1 in 6 overs.
Oh. Sudeep is out for 11 (20) and he failed to make it big after getting a life. Joshi picks the wicket. Score: 36-1 from 5.3 overs.
Sudeep was given out but he took referral and the third umpire declared not out.
Pradeep hits first six of the innings. Score: 36-0 in 5 overs.
5 runs come from fourth over. Score: 29-0
After 3 overs, the Sandalwood team is at 24-0. Pradeep: 12 (9), Sudeep 9 (9)
The Sandalwood team is off to a good start. 15 runs come from the second over. Score: 20-0.
An easy catch put down by Telugu Warriors. Sudeep gets a life.
Karnataka Bulldozers score 5 runs from its first over.
Sudeep and Pradeep open the innings for Karnataka Bulldozers. Raghu is given the ball.
Telugu Warriors won the toss and decided to field first.