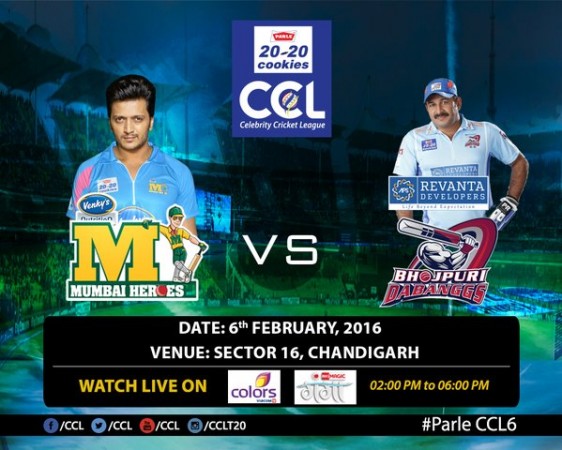 Mumbai Heroes will take on Bhojpuri Dabanggs in their third match of the Celebrity Cricket League (CCL) 6. The match will be played at Sector 16, Chandigarh, on Saturday, 6 February.
Watch Telugu Warriors vs Karnatak Bulldozers Online | Live Score Card
It has been a mixed tournament for Mumbai Heroes so far, as they have won and lost one match each. They need to win this clash in order to enter the semi-final stage.
In case of Bhojpuri Dabanggs, their place in the next stage is almost confirmed and they will try to maintain the good momentum by winning the match against the Bollywood team.
After coming out with flying colours in their opening match against Punjab De Sher, the Bollywood team lost their match against Bengal Tigers. On the other hand, the Bhojpuri team has won both the games convincingly, and hence it is a favourite to win this match.
The match starts at 2 pm and it will be aired on Colours TV and Big Magic Ganga. Here we bring to you live score updates of the match:
Second Innings Live Update:
Bhojpuri Dabanggs have successfully chased the huge total of 204 runs set by Mumbai Heroes. Uday Tiwary's stunning 90 from 48 balls helped them to win the match. They have now qualified for the next stage.


The Bollywood team had a good score on board but its bowlers failed to restrict the Bhojpuri batsmen from scoring runs. In the end, Bherwani's 72 went in the vain.
Bhojpuri Dabanggs
Runs
Balls
M Tiwari
lbw b Lakhia
30
24
RP Yadav
c Bherwani b Deol
14
9
U Tiwary
not out
90
48
A Sharma
lbw b Lakhia
1
2
A Ojha
not out
56
36
V Singh
P Jais
A Khan
JP Yadav
Nirahua
Asgar
Total: 208-3
Extras
17
Bowling Card
Name
Overs
Dots
Runs
Wickets
Economy
R Bherwani
4
7
32
0
8.00
B Deol
3
6
30
1
10.00
R Deshmukh
1
2
13
0
13.00
S Saleem
1.4
1
29
0
17.40
J Bhanushali
1
1
14
0
14.00
A Lakhia
4
5
24
2
6.00
V Badola
3
3
43
0
14.33
A Ahluwalia
2
3
17
0
8.50
Second Innings Live Update
Bhojpuri Dabanggs win the match by 7 wickets. Tiwary and Ojha ensured that their team comfortably cross the winning line in the end.
3 runs required from 4 balls.
7 runs required from 6 balls.Two set batsmen are in the crease. Can Mumbai Heroes win the match?
Bhojpuri Dabanggs team is inching towards victory. 8 runs required from 9 balls.
It was a fantastic over for Bhojpuri Dabanggs. 20 overs come from 18th over. Score: 191-3.
Bhojpuri Dabanggs need 35 runs in 18 balls.
Sabir Abhluwalia is brought into the attack. 10 runs come from that over. 171-3.
19 runs come from 16th over. 161-3. Now, 45 required from 24 balls.
Uday Tiwary has to stay till the end if Bhojpuri Dabanggs has to win the match.
After 15 overs, the Bhojpuri team are at 142-3. Ojha 17 (19), U Tiwary: 67 (37).
64 runs required from 30 balls for Bhojpuri Dabanggs.
6 runs come from that over. Score: 114-3.
Bhojpuri team has scored 108 for the loss of 3 wickets in 10 overs.
Tiwary score half century. He has scored 52 runs from 22 balls.
Aditya Ojha is the new batsman. Score: 97-3 in 9 overs.
Bhojpuri team loses one more wicket in the form of Ajhoy Sharma. The Mumbai team is back into the match.
Manoj Tiwari is gone for 30 (24). Apoorva Lakhia gives the much-needed breakthrough for the Mumbai team. Score: 94-2 in 8.2 overs.
The Bhojpuri team needs 112 runs from 72 balls.
After 8 overs, Bhojpuri Dabanggs are at 94-1.
The Bhojpuri team is scoring runs at very good run rate. 87-1 in 7 overs.
15 runs to end the last over from the powerplay. 73-1 in 6 overs.
20 runs come from 5th over. This is the kind of start that Bhojpuri Dabanggs wanted and they are game for the huge chase.
8 runs come from 4th over. Score: 38-1.
The Bhojpuri team looking to be playing a positive game. Score: 29-1. Mumbai Heroes had made 35-0 in 3 overs.
Bobby Deol is into the attack. Yadav is out for 14 (9)
Bhojpuri Dabanggs hit 10 runs in first over.
Mumbai Heroes have scored 205 for the loss of 4 wickets in 20 overs. The good batting contribution from Bherwani, Kocchar and Ahluwalia helped the Bollywood team to score a winning total. R Bherwani was the highest run getter in their innings as he made 72 runs from 50 balls. Ayaz Khan was the pick of the bowlers for getting two wickets in 4 overs, which cost 36 runs for Bhojpuri Dabanggs.

Mumbai Heroes
Runs
Balls
S Kocchar
c Nirahua b Khan
43
21
R Deshmukh
lbw Ojha
7
13
R Bherwani
not out
72
50
S Ahluwalia
b Khan
39
21
A Shivdasani
run out (Singh)
10
7
A Lakhia
not out
21
8
B Deol
I Sengupta
V Badola
S Saleem
J Bhanushali
Total: 205-4
Extras: 13
Bowling Card
Name
Overs
Dots
Runs
Wickets
Economy
M Tiwari
1
2
15
0
15.00
V Singh
2
4
20
0
10.00
A Ojha
4
8
34
1
8.50
RP Yadav
3
5
30
0
10.00
P Jais
1
0
12
0
12.00
A Khan
4
6
36
2
9.00
Asgar
4
8
28
0
7.00
JP Yadav
1
0
27
0
27.00

Bhojpuri Dabanggs squad
Mumbai Heroes successfully cross 200 mark. Score 205/4 in 20 overs.
10 runs come from 19th over even though one wicket was lost by Mumbai Heroes. 192/4.
Apoorva Lakhia joins Bherwani. They have only countable balls left. So, they should make use of it to their best of their ability.
Shivdasani is out for 10 (7). Score: 182/4.
Aditya Ojha is brought into the attack. 13 runs from that over. 182/3.
13 runs come from 17th over. 200 runs on board is still a possibility. Score: 169/3.
After 16 over, the Mumbai team are at 156-3.
Danger man Ahluwalia is out. He is gone for 39 (21). Shivadasani is the new man.
5 runs come from 14th over. 141-2.
What an over it turned out to be for the Mumbai team. They get 27 runs from the 13th over. Two 6s and three 4s come from that over. Score: 136/2.
The Bollywood team should step its foot on accerlator now.
Mumbai Heroes have got a dream start. 93/2 in 10 overs. At this rate, they will easily reach close to 190 runs, which is a good score on this track.
Ahluwalia is the new man. Oh, he hits six of the first ball.
Kocchar is out. He goes for 43 (21). Score: 79/2.
Mumbai Heroes looking good at this stage. Score 79/1 in 8 overs. Kocchar: 43 (20), 25 (15).
8 runs come from that over. Score: 67-1 in 7 overs.
3 boundaries come from the sixth over. Score: 59-1.
The Bollywood team has scored 45-1 in 5 overs.
Deshmukh gone for 7 (13). Bherwani is the new man into the crease.
After four overs, Mumbai Heroes are scoring at 10+ run rate. 41/0.
Mumbai Heroes hit 9 runs from the third over. S Kocchar: 26 (11), R Deshmukh: 6 (7). 35/0
The Bollywood team is off to a good start. They score 11 runs in the second over. 26/0.
3 boundaries come from the first over. Score: 15/0.
Kocchar and Deshmukh open the innings.
Mumbai Heroes won the toss and decided to bat first.
Bhojpuri Dabanggs
Manoj Tiwari, Ravi Kishan, Dinesh Lal Yadav, Ram Pravesh Yadav, Uday Tiwari, Ajhoy Sharma, Vikranth SIngh, Aditya Ojha, Prakash Jais, Ayaz Khan, Shailesh Sinha, Vaibhav Rai, Asgar Rashid Khan, Vikas Singh, Akbar Naqvi, Gajender Pratap Dwivedi, Jay Prakash Yadav, Raj Chouhan, Pawan Singh, Bobby Singh, Pradeep Pandey and Yash Kumar.
Mumbai Heroes Squad:
Riteish Deshmukh, Bobby Deol, Aftab Shivdasani, Amit Purohit, Apoorva Lakhia, Armaan Kohli, Indraneil Sengupta, Jeetu Varma, Kabir Sadanand, Raja Bherwani, Rohit Roy, Samir Kochhar, Sangram Singh, Shabir Ahluwalia, Suniel Shetty, Varun Badola, Vatsal Sheth, Saqib Saleem, Rajneesh Duggal, Jay Bhanushali, Dino Morea, Manoje Biddvai and Sharad Kelkar.