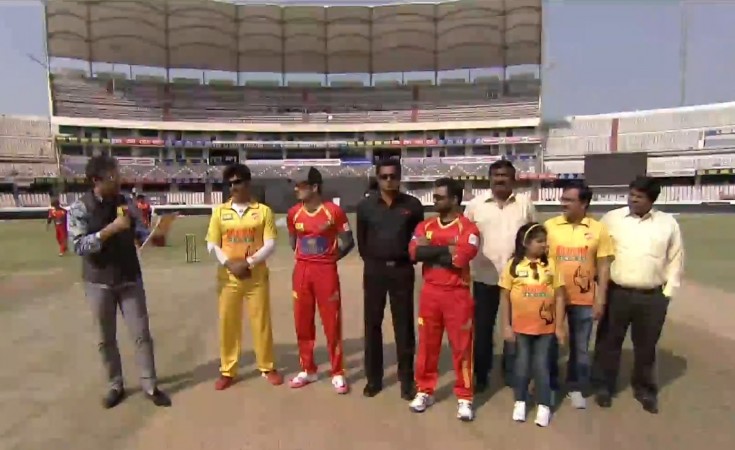 Telugu Warriors walked away with winner's trophy, beating Chennai Rhinos in the final match of Celebrity Cricket League 5 (CCL 5), which was held at Rajiv Gandhi International Stadium in Uppal, Hyderabad on Sunday, 1 February.
Former Indian cricketer Atul Wassan introduced captains of both the teams. Akhil Akkineni, who is the captain of Telugu Warriors, won the toss and chose to field first. Talking to Atul, Akhi said, "I want to bowl first. Like I said, every toss we have won, we have chased very well. Our openers are ready to take on any total. We are happy with that."
Chennai Rhinos took to batting and scored 132 runs for the loss of 5 wickets in 20 overs. Prithvi, Vikranth, Vishnu, Shantanoo and Jiiva played well and collected 31 runs (25 balls), 23 runs (25 balls), 21 runs (27 balls), 21 runs (22 balls) and 21 runs (17 balls) respectively.
Having bowled and fielded well, Telugu Warriors chased the target set by Tamil stars' team and showed brilliant performance in batting. Sachin Joshi, Sudhir Babu and Akhil scored 37 runs (24 balls), 35 runs (37 balls) and 32 runs (21 balls). The team finally won the trophy of CCL 5. This is their first victory in five years.
The final match of Celebrity Cricket League 5 was aired live on TV channels such as Rishtey, Gemini and Sun TV. It was also live streamed on YouTube. You can click here to watch the match between Chennai Rhinos and Telugu Warriors.
Here is the scorecard of final match of Celebrity Cricket League 5:
Chennai Rhinos innings
Runs
Balls
4s
6s
Ramana
c Dharam b Raghu
0
3
-
-
Vikranth
c sub (Vishwa) b Adarsh
23
25
1
-
Vishnu
c Akhil b Samrat
21
27
3
-
B Shantanoo
c Akhil b Adarsh
21
22
3
-
Prithivi
not out
31
25
4
-
Jiiva
c Nandakishore b Akhil
21
17
1
Sharan
not out
0
0
-
-
Arya
still to bat
Bharath
still to bat
A Selvan
still to bat
Shaam
still to bat
Extras
(2 lb, 3 lb, 10 w)
15
Total
(5 wicket, 20 overs)
132
Fall of wickets: 1-1 (Ramana, 0.3 ov), 2-38 (Vishnu, 7.1 ov), 3-62 (Vikranth, 11.1 ov), 3-62 (Shantanoo 13.3 ov), 5-126 (Jiiva, 19.2 ov)
| | | | | | | |
| --- | --- | --- | --- | --- | --- | --- |
| Telugu Warriors bowling | Overs | Mdns | Runs | Wkts | Wides | No-Balls |
| Raghu | 4 | 0 | 15 | 1 | 2 | - |
| Prince | 3 | 0 | 20 | 0 | - | - |
| Samrat | 2 | 0 | 13 | 1 | 2 | |
| Sachin Joshi | 4 | 0 | 24 | 0 | 2 | - |
| Adarsh | 3 | 0 | 25 | 2 | 1 | - |
| Nandakishore | 2 | 0 | 13 | 0 | - | - |
| Akhil | 2 | 0 | 17 | 1 | 1 | - |
Telugu Warriors innings
Runs
Balls
4s
6s
Prince
c Bharath b Jiiva
12
15
-
-
Sachin Joshi
c Shaam b Jiiva
37
24
5
2
Sudhir Babu
not out
35
37
2
2
Raghu
c Sharan b Selvan
11
11
1
-
Akhil
not out
32
21
2
2
Samrat
did not bat
Nandakishore
did not bat
Adarsh
did not bat
T Ratna
did not bat
Tarun
did not bat
Dharam
did not bat
Extras
(9 w)
9
Total
(3 wicket, 18.1 overs)
136
Fall of wickets:
1-50 (Sachin Joshi, 5.6 ov), 2-55 (Prince, 7.3 ov), 3-87 (Raghu, 11.4 ov)
| | | | | | | |
| --- | --- | --- | --- | --- | --- | --- |
| Chennai Rhinos bowling | Overs | Mdns | Runs | Wkts | Wides | No-Balls |
| Arya | 4 | 0 | 22 | 0 | 2 | - |
| Vishnu | 4 | 0 | 26 | 0 | - | - |
| Vikranth | 3 | 0 | 25 | 0 | 2 | - |
| Jiiva | 3.1 | 0 | 33 | 2 | 3 | - |
| Slvan | 4 | 0 | 31 | 1 | - | - |