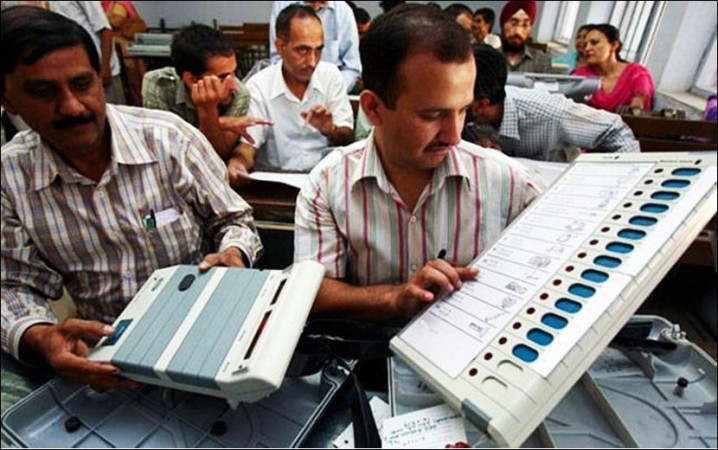 Even as politicos like RJD leader Tejashwi Prasad Yadav demanded that the voting process in the country be conducted on ballot paper raising questions about the credibility of Electronic Voting Machines (EVMs), chief election commissioner (CEC) OP Rawat on Saturday (June 2) not only ruled out the possibility but also branded all allegations of EVM tampering as "baseless".
After the results of by-polls were declared last week, several parties had alleged that a few EVMs had been either tampered with or malfunctioned when the people were casting their votes.
However, during an interactive session organised by Merchants' Chamber of Commerce and Industry (MCCI) in Kolkata, Rawat urged people not to doubt the "integrity of the system (EVMs)."
He said that all elections in India will be carried out through Voter Verifiable Paper Audit Trail (VVPAT) equipped EVMs.
"There are allegations against tampering of EVMs. They come from political parties who are seeking a scapegoat route. Completely baseless insinuations. We had convened an all-party meeting in July last year and announced that all future elections will be conducted through Voter Verifiable Paper Audit Trail (VVPAT) equipped EVMs. Now, there is no question of bringing the ballot papers back," Rawat asserted.
Rawat also assured people that the identities of all those who want to expose electoral malpractices through Election Commission's (EC) mobile app will also be protected.
"Our mobile app empowers anyone to send complaints with evidence to us wherever they come across malpractices during polls. We will ensure that prompt action will be taken. The mobile app system was introduced on a pilot basis during the last Karnataka assembly elections. Back then, we had received nearly 780 video complaints of electoral malpractices. This practice will be followed from now in every election," he added.
The CEC also said that around 1,000 political parties have been "delisted" by the Election Commission in the last two years as they were neither active for a long time and nor had they contested in any election.
"Following the ruling of the Supreme Court saying that political parties cannot be deregistered, we found that we can delist parties. So, we started a process based on the input we have about some parties," said Rawat.
A few have been also delisted as they had provided fake details.
"We sent letters, notices to some. In some cases, those returned as the office addresses could not be located. A lot of other details appear to be fake," Rawat explained.