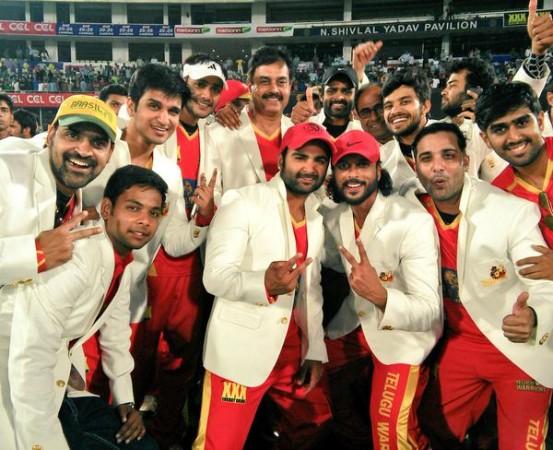 Actor-cum-producer Sachiin Joshi, who is the owner of "Telugu Warriors", has announced a holiday to Turkey for the members of the cricket team for their wonderful victory at the Celebrity Cricket League 5 (CCL 5).
Telugu Warriors performed brilliantly in the fifth season of CCL and entered the finals, which was held at Rajiv Gandhi International Stadium in Uppal, Hyderabad on Sunday, 1 February. In the final match, the team defeated the Chennai Rhinos. Check out CCL 5 Final Match Scorecard here.
Although Telugu Warriors had performed well in the previous seasons of CCL as well, they could not win the trophy. This is the first time that the team has won the honour. Thrilled at the victory, team owner Sachiin Joshi planned to reward his team members.
Soon after the team won the CCL 5 cup, Sachiin Joshi posted a photo on Instagram and lauded the performance of his team members. But, he did not mention about the trip to Turkey. The owner of the team wrote, "Won the cup in style #God s kind hard work of #teleguwarriors played the most #amazing..."
Aadarsh Balakrishna, who is one of the memebrs of Telugu Warriors, took to Twitter to reveal his excitement over winning the CCL trophy. The actor tweeted, "And my prediction was right! CCL champs 2015. This win goes out to Victory Venkatesh. We did it! I told ya we would!"
Meanwhile, Aadarsh Balakrishna also confirmed that Sachiin Joshi has plans of taking the team on a holiday trip. On his Twitter page, he wrote, "Our most generous team owner @sachiinjoshi has announced a holiday to Turkey for winning the cup!!! Lets go Warriors! Love you Sachin!!! :)"
It should be mentioned here that the superb performance of Akhil Akkineni, who is the captain of Telugu Warriors, is a key factor in the success of the team. The budding actor dedicated the trophy to Victory Venkatesh. He tweeted, "After five years !!!! Finally for my captain !!! I'm so thrilled to be sitting with him with the cup!"