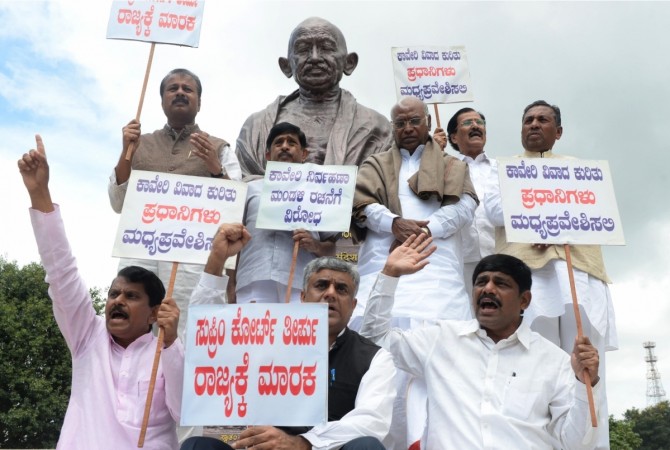 Tamil Nadu is considering filing a contempt petition against the Karnataka government over non-compliance of the Supreme Court order on releasing Cauvery water.
Karnataka government has deferred the release of 6,000 cusecs of water a day to Tamil Nadu. The state has convened a special legislature session on Friday to adopt a resolution that releasing water to the neighbouring state will not be possible since it is against public interest. Meanwhile, Tamil Nadu also expects to file the petition by Friday.
"Discussions are on. The petition might be filed on Friday itself," a senior government official told the Times of India.
Tamil Nadu should form a team of officers who would take control of the reservoirs, said senior advocate N L Rajah. He also added that initiating contempt proceedings against an "amorphous" entity like a government would be difficult.
The flow of water into the Mettur dam from Karnataka had reduced to 3,000 cusecs on Wednesday evening. A week ago the inflow was supposed to be 15,000 cusecs, but it was reduced to below 12,000 cusecs on Monday, 9,000 cusecs on Tuesday and 3,400 on Wednesday. The Mettur dam had 86.94 ft of water on Thursday
"The Supreme Court is reduced to being a spectator," senior lawyer K M Vijayan said.
"It would be improper to suspend the supply from Mettur dam, given that farmers have taken up cultivation of samba crop in the delta region," an official told TOI.
Tamil Nadu has a moral high ground to demand compliance at the Supreme Court since it has been following the ban on Jallikattu, said lawyer and general secretary of farmers association Siva Rajasekaran.