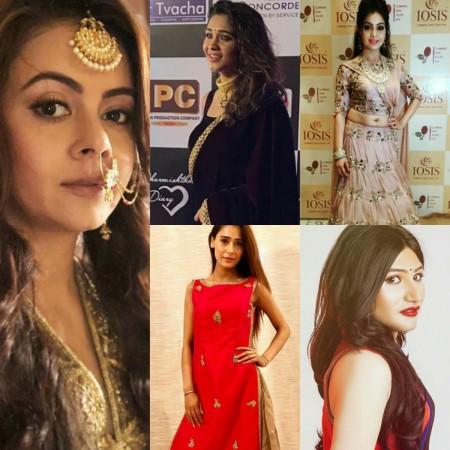 The entire entertainment industry is currently buzzing about the casting couch issue. After Telugu actress Sri Reddy made some shocking allegations of sexual abuse on prominent personalities, choreographer Saroj Khan also admitted that casting couch is prevalent in the industry.
However, a number of popular TV actresses said that they never came across anything like this in the television industry, and called casting couch a "fake belief".
Here's what some of the well-known TV divas have to say about the issue:
Devoleena Bhattacharjee: I have never experienced or heard about any such experience from my friends and near ones. I have only read about it. I really don't feel or see any such happening around my working ground. However, if even it exists I am always against it. I believe the industry is too big and talent is always respected here.
Shubhangi Atre: I believe a producer or the maker are investors. And from their point of view, talent is always most welcome for their investment. An artist with no talent will never take the show ahead. And casting needs the approval of producer and channel too. So I don't see casting couch in a genuine production company or a channel, nor I have faced any such situations till date. I think this is a fake belief and polluting thought which many fake agencies follow up, and many innocent become victims of.
Sara Khan: Casting couch is totally a fake belief At least I don't see it around me. I have done many shows in India, TVC, regional and Bollywood movies. I have even worked with Pakistani shows. But till date I didn't see this happening. I believe we enjoy most clean work. Yes, maybe we need to shoot day and night or longer. But our work includes a good teamwork, fun, entertainment, and travel. I enjoy my work.
Amrapali Gupta: Casting couch never happens in genuine production houses or say, by channel. I have no such experiences. But yes, I agree people in contact with different casting agencies are at risk of facing such situations. But I would love to suggest one thing to the aspiring actors who come to Mumbai to get some fame - Don't go and waste money in such agencies. Join casting groups on social media or find some famous, genuine casting people and go for auditions. If you are talented you will get roles for sure. And if someone offers any such condition, loud your voice, rather putting yourself at a risk.
Mahika Sharma: I don't believe casting couch exists in our industry at least. We all need to struggle for getting work. If people like your work, market brings you lot of offers and you grow automatically. A talented artist is just like a treasure for productions. Casting couch is just a synonym of superstitious belief. And many innocent people becomes victims of it.