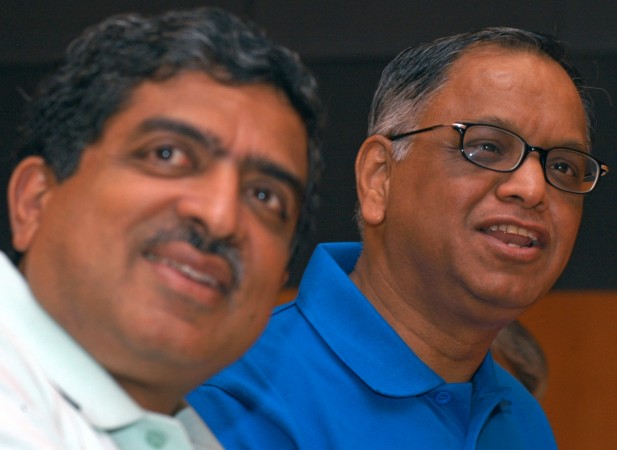 In an unprecedented move, founders of Infosys, including N R Narayana Murthy and Nandan Nilekani, have expressed their intention to sell a maximum of 1.77 crore shares as part of the company's Rs 13,000-crore buyback program, which was announced on August 2.
At the buyback price of Rs 1,150 a piece, the promoters will earn as much as Rs 2,038.94 crore, if the 1.77 crore shares tendered by them are accepted in the buyback offer, the Economic Times reported.
Nilekani, along with his family, have offered to tender 58 lakh shares, while Murthy, along with wife Sudha and two children, has put over 54 lakh shares on the block. S Gopalakrishnan and family have offered 22 lakh shares. In the case of company co-founder K Dinesh, the number stands at 29 lakh. S D Shibulal will not participate in the buyback per se, but his wife and son intend to offload over 14 lakh shares, ET reported.
The promoter group includes most of the founding members and their families — who held 29.28 crore shares, or 12.75 percent of the stake in Infosys at the end of June 2017, according to Bombay Stock Exchange data.
The Bengaluru-based IT exporter has been at the heart of a storm over the past month, with founders and board members engaged in a tussle over issues like corporate governance and irregularities in Infosys's acquisition of Israeli firm Panaya.
The spat eventually resulted in the stepping down of Vishal Sikka from the position of CEO and MD on August 18 along with three board members and Chairman R Seshasayee.
Following the inhouse turmoil, co-founder Nandan Nilekani made a comeback to home turf after a period of eight years as non-executive chairman, conceding to requests from other co-founders and large domestic institutional investors.
India's second largest software company Infosys had on August 19 announced that its board has approved a Rs 13,000-crore buyback plan. In a filing to the stock exchanges, the company said it would buy back fully paid-up equity shares of face value of Rs 5 each at Rs 1,150 apiece.
The company said "The buyback offer will comprise a purchase of up to 113,043,478 equity shares aggregating up to 4.92 per cent of the paid-up equity share capital of the company at a price of Rs 1,150 per equity share."
Following Vishal Sikka's exit on August 18, Infosys promoters have lost around Rs 4,320.70 crore (see chart below), with co-founder N R Narayana Murthy losing the most. The software service exporter has lost Rs 33,914.71 crore of its market capitalisation after sell-off was triggered on Sikka's exit.
Related