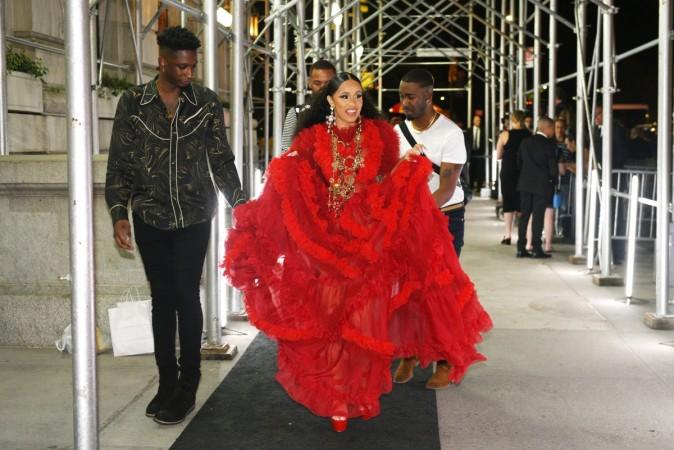 Singers Cardi B and Nicki Minaj got into a very public scuffle on Friday, September 7 at New York Fashion Week party that left Cardi with a huge mark on her forehead.
A video doing the rounds on the internet shows Cardi trying to struggle free while being held back by someone at the Harper's Bazaar Icons party. Apparently, she flung one of her red platform heels at Minaj and was also seen in yet another video, being escorted from the venue by security.
Reports suggest that though the rappers were separated quickly enough, Cardi B sported a giant rip in her voluminous red Dolce & Gabanna gown as she walked out of the Plaza Hotel.
A source revealed to Page 6, "It was bad. They were separated by security, but Cardi was still trying to get at her. She took off a giant red shoe and threw it at Nicki — who was being blocked up against a wall by huge security guard" and added "There was a giant fist full of hair on the floor. One of Cardi's assistants came and grabbed it and took it with her."
Post the drama, Cardi B took to Instagram where she listed things that Nicki Minaj had allegedly said and done to her.
"I let you sneak diss me, I let you lie on me, I let you attempt to stop my bags, f**k up the way I eat! You've threatened other artists in the industry, told them if they work with me you'll stop f**king with them!! I let you talk big s**t about me!!" the rapper wrote.
"I addressed you once in person, I addressed you a second time in person, and every time you copped a plea!! But when you mention my child, you choose to like comments about me as a mother, make comments about my abilities to take care of my daughter is when all bets are f**king off!! I've worked too hard and come too far to let anybody f**k with my success!!!!" she added.