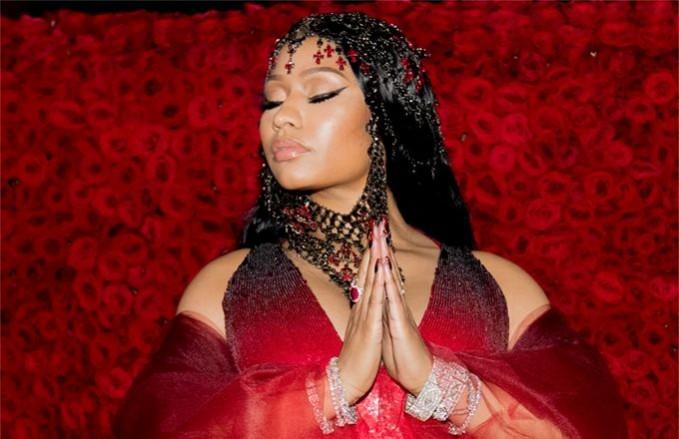 Nicki Minaj became a victim of a major wardrobe malfunction during her recent performance. The 35-year-old rapper accidentally flashed her breasts as she performed at the Made in America Festival in Philadelphia.
The Anaconda rapper was performing her hit track Majesty, when her dress slipped to the side and exposed her chest. However, she realized the mishap and fixed her top immediately and kept performing.
While the American Idol judge didn't seem too embarrassed by the situation, she did address it later in the show.
"You know what? Let's go at it. They done saw my nipples at least 50 times tonight," she was heard saying in a video posted by a fan on social media. The Twitter user captioned the clip: "Nicki not giving a f—k IS ICONIC."
She retweeted the video with a stressed face emoji. You can see the NSFW video on Instagram.
This is not the first time Minaj has suffered a wardrobe malfunction on stage. While Minaj, Ariana Grande and Jessie J were performing their hit song, Bang Bang at 2014 MTV VMAs, the rapper was forced to hold her outfit from her chest and right above her crotch.
Following that, during an appearance on the Ellen DeGeneres show, she talked about the incident.
"Originally, I was just gonna have a skirt that just wrapped around the green, but when I realized that Jessie and Ariana were wearing black and white, I didn't want to ruin the shot with me wearing a green bra and them wearing black and white!" she told Ellen. "I was like, 'I have to put on a black dress really quickly!' Sure enough, we didn't have a real quick-change right there, so it was literally my whole team just standing there, holding curtains around me. It was pitch black. I couldn't see anything. Right before it was time for me to walk out, they went to zip it up, and ... right there, I thought I died. I didn't have any underwear on! No underwear, no bra, because I had just taken off the 'Anaconda' outfit, so I was butt-ass naked!"