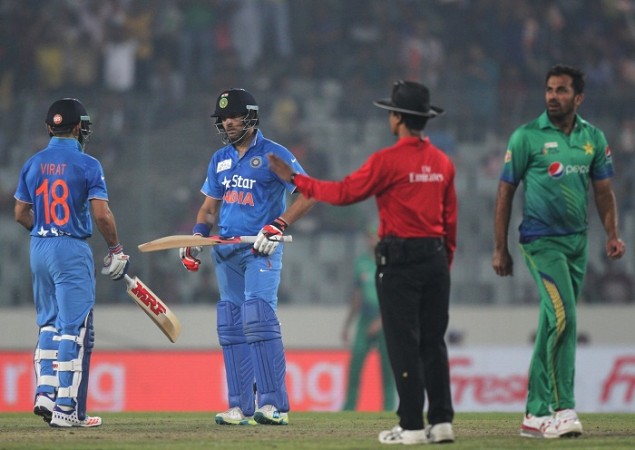 India vs Pakistan cricket matches are always highly anticipated clashes, but the upcoming World T20 clash at Himachal Pradesh Cricket Association Stadium in Dharamshala, March 19, has come under immense strain.
Voices have been raised from several quarters, asking the match to be taken away from the state as a sign of respect for the two soldiers who lost their lives during the terror attack at an air base in Pathankot last month. The attack had resulted in the death of seven soldiers.
Earlier, the Himachal Pradesh Ex-Servicemen League also urged the authorities to shift the venue of the match. HP Chief Minister Virbhadra Singh and Transport Minister GS Bali had echoed similar sentiments.
Now, senior BJP leader Shanta Kumar has also joined the chorus, demanding that the venue be shifted from Dharamshala. Kumar has even written a letter to Prime Minister Narendra Modi in this regard.
"Himachal Pradesh is the land of brave soldiers, and two martyrs of the terror attack in Pathankot were from this area, and a memorial is located just a few metres from the cricket stadium where the match is to be played," the BJP MP was quoted by PTI as saying in a letter to Modi.
With such voices calling for the venue to be shifted, the Central government and the BCCI are under pressure, and it remains to be seen if they accede to the demands.
Though the politicians and some other sections of society might be keen on having Dharamshala being replaced as the venue for the clash, cricket fans want to watch the World T20 clash in the state: They have already registered for the tickets.
The BCCI announced a unique lottery system for the sale of tickets for India matches and the semifinals and the final a few days ago, and 1,38,101 registrations have already been received for the India vs Pakistan clash in Dharamshala.
India and Pakistan have already squared off once this year, with the Men in Blue defeating their arch-rivals by 5 wickets in the Asia Cup in Bangladesh Saturday, Feb. 27.