Formula 1 star Lewis Hamilton can be very happy about the way the F1 2017 season turned out for him. The veteran British driver beat the competition from closest rival Sebastian Vettel and took home the World Championship title -- his fourth overall.
Everything was going on pretty much well for the 32-year-old, who was linked to be having an affair with stunning American beauty Bella Hadid, also earlier this year. However, his recent deletion or rather archiving all his lifetime Instagram posts has raised a lot of questions.
Was it a terrible feeling of guilt for Hamilton or did the online trolls lead him to a terrible zone of depression?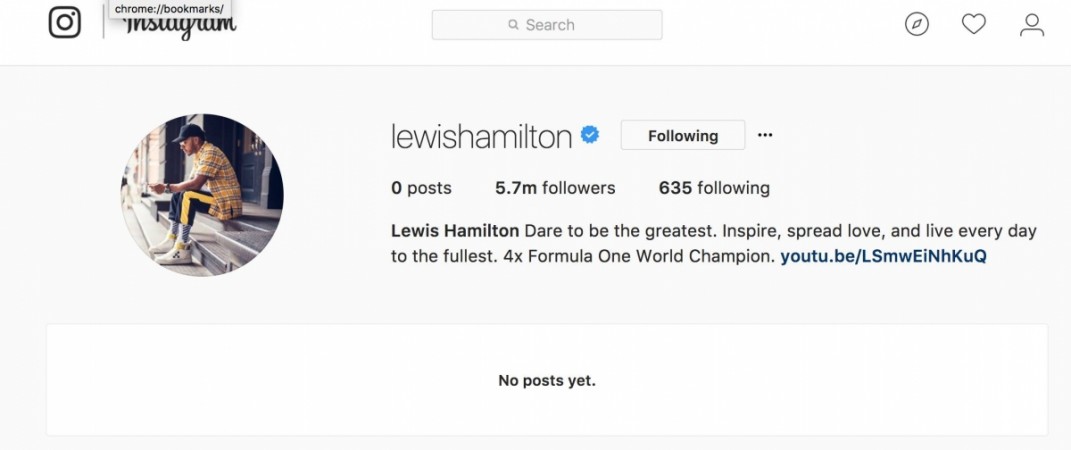 Remember, earlier this year, when the F1 season wasn't going in favour of Hamilton, he decided to take a 'mini-break' ahead of the British Grand Prix 2017 after the veteran driver came in fourth at the Austrian GP. The short vacation gave him a fresh life and he went on to win the World Championship.
The social media break or vacation can also be seen in the same light. May be, a return with a bang on Instagram is on the cards in 2018.
Hamilton was vehemently criticised for sharing a snapchat post a few days back where showed his disappointment in his nephew wearing a princess' dress. "I'm so sad right now. Look at my nephew," he said in the video. "Why are you wearing a princess dress? Is this what you got for Christmas? Why did you ask for a princess dress for Christmas? Boys don't wear princess dresses!"
The 32-year-old, who has a 'godson' named Darth Steve, later took to Twitter to post apologies for the comments which made him go through a lot of regret.
Yesterday I was playing around with my nephew and realised that my words were inappropriate so I removed the post. I meant no harm and did not mean to offend anyone at all. I love that my nephew feels free to express himself as we all should.

My deepest apologies for my behaviour as I realise it is really not acceptable for anyone, no matter where you are from, to marginalise or stereotype anyone.

I have always been in support of anyone living their life exactly how they wish and I hope I can be forgiven for this lapse in judgement.

- Lewis Hamilton on Twitter
Interestingly, the tweets are deleted now. As for his 6 million close Instagram followers, a dose of suspense and the hope for Hamilton's comeback remains the most sought-after thing for them in 2018.