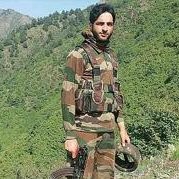 Unrest has been festering in Kashmir for four months now in which at least 90 people have been killed, another 10,000 injured and scores arrested in clashes with security forces that began after the killing of Hizbul Mujahideen militant Burhan Wani in July.
But if reports are to be believed, Wani has been resurrected in the form of a contentious and popular video game doing the rounds in Kashmir.
"Burhan Vs Modi", an android based mobile phone game being played by youngsters in the Valley, allows users to play as Wani's character who shoots, kicks and punches to eliminate figures resembling Prime Minister Narendra Modi to win points and advance through the levels.
With songs featuring pro-Azaadi lyrics playing in the background, an individual has to progress through six stages with ten levels each to win the game, the objective being to attain "azaadi" (freedom).
Senior police officers of the cyber cell have confirmed that they are investigating the game that is no longer available on Google Play Store. Individuals are reportedly sharing the game to each other through applications such as Share that don't require internet connections to work.
Though the identity of the developers of the game remains anonymous, the game features the photos of two Kashmiri youngsters come up with a caption that reads 'creator of the game'in the beginning of the game. A certain individual is also named in the credit section of the game.
"Yes, the game has come to our notice and we are investigating it. The name of a certain man comes in the credit section and we have narrowed down on him. He is from south Kashmir," said a senior officer of the police cyber cell was quoted saying to Hindustan Times.
Police officials say that they speculate that though game wasn't built from scratch, locals superimposed Wani and Modi's image on the characters of an existing action game.