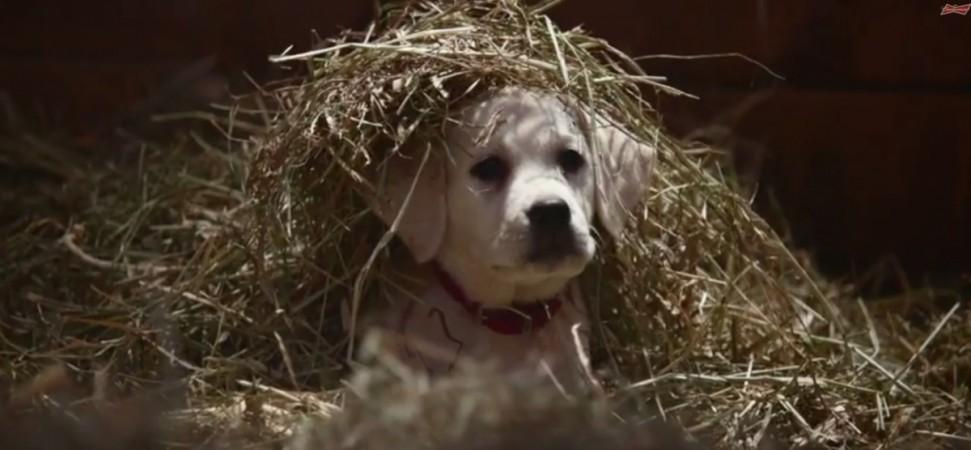 Following the success of its "Puppy Love" commercial, Budweiser has come out with yet another touching ad that features a lost puppy.
The one-minute video features a puppy and Clydesdale horses. The ad shows how a lost puppy finds its way back home.
The commercial starts off with a rancher leading a Clydesdale into a stall. The star of the ad, the labrador puppy, emerges from a pile of hay in the stall and runs out of the stable. He looks back at the horse before spotting a truck and running inside it. Sadly, the pooch gets trapped when the truck door closes and manages to escape only after the truck stops on a busy street.
The animal is then shown seeking shelter in a box as it rains. Next, he is seen running through a field in the dark. But before he could go back to safety, the puppy faces a growling wolf. Soon, a few Clydesdales break free from their stalls to scare away the wolf and get the puppy back home.
Check out the ad below:

This new Budweiser commercial, which will be aired on 1 February as the Seattle Seahawks play the New England Patriots, has been praised by scores of netizens.
Speaking of the ad, Brian Perkins - Budweiser vice-president - said that this year, too, their focus was on telling a story of how best buds never let you down.
"The Budweiser Clydesdales have appeared in our Super Bowl ads for nearly three decades. They continue to serve as time-honored symbols of how we brew our beer: remarkable care and attention, sparing no expense, the highest quality and consistency," Perkins said in a statement on the Anheuser-Busch site. "This year, they will live up to their reputation and once again save the day in a heartwarming story about best buds never letting you down."
Check out last year's advertisement below: