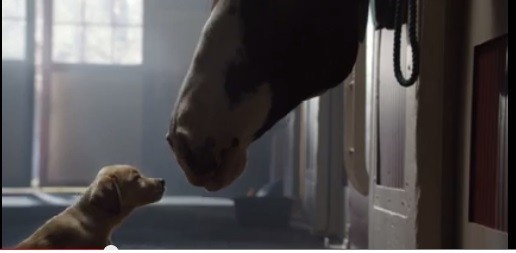 Budweiser's Super Bowl XLVIII advertisement is yet to make its television debut, but it has become a rage on the Internet due to its feel-good element.
The advertisement depicts the special friendship between the Budweiser Clydesdale and a puppy. It has already garnered more than 21 million views, just a day after the ad made its YouTube debut on Jan. 29.
The storyline of the commercial centers on a young Labrador retriever's bond with a Clydesdale horse at the Warm Springs Ranch, where Anheuser-Busch raises its horses.
The puppy, belonging to an adoption center next door, is repeatedly rounded up and returned to the owner after it escapes to the ranch to meet the horse.The climax of the ad shows the puppy being adopted by a man, and as it is driven away, horses block the car the puppy is travelling in so that it can be reunited with the horse.
"The whole story is about connection," Jake Scott, the ad's director, told NBC's Today. "There's connection of heart, connection of spirit, connection of soul."
The ad is already making news on social networking sites such as Facebook and Twitter.
"Did a Budweiser commercial seriously almost make me cry!?! Oh man. I really am a big, softy. #bestbuds," one tweet read, while another added, "Budweiser's Super Bowl Advertising and Marketing team nailed it again this year with 'Puppy Love.'"
Check out the ad below.