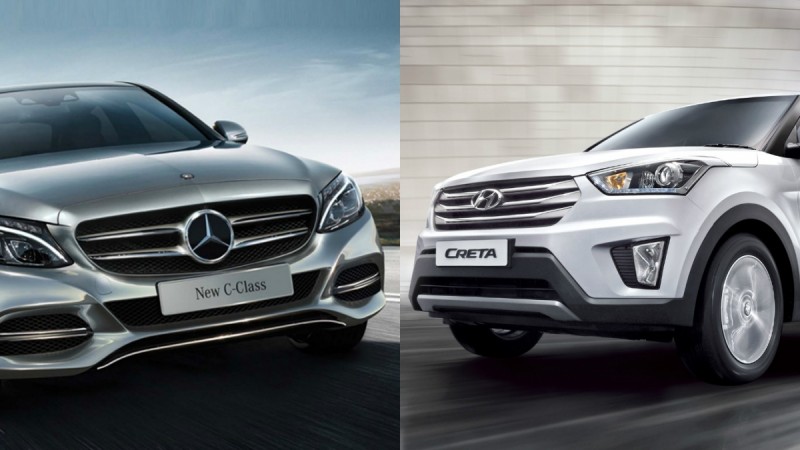 Tata Motors announced a hike in car prices across the range Tuesday, March 1, and Mercedes-Benz India and Hyundai Motor India Ltd (HMIL) followed suit Wednesday. The hike comes after Finance Minister Arun Jaitley announced Monday, Feb.29, in Budget 2016 the government would levy Infrastructure tax on all four-wheelers.
Mercedes-Benz India announced Wednesday, March 2, an increase in prices of its entire model range effective from March 15, 2016. The increase would be between 3 percent and 5 percent depending on the model. The imposition of an infrastructural tax as well as an additional luxury tax has negatively impacted the prices of Mercedes-Benz's model range. The decision to hike prices is further accentuated by the weakening currency, coupled with rising input costs, said the company in a statement.
Once the tax comes into effect, Hyundai India will increase the price of its entry-level Eon hatchback by Rs 3,000. Among the other cars of Hyundai, the i10 will see a price hike of Rs 4,000, the Grand i10 Rs 5000, the Xcent Rs 13,000, the Verna Rs 24,000, the Elite i20 Rs 18,000, the Elantra Rs 47,000 and the Santa Fe Rs 80,000. Hyundai's popular SUV, the Creta, will also see a hike in price in the range of Rs 26,000 to 45,000.
Jaitley, in his Budget speech Monday, said the government would levy 1 percent additional infrastructure tax on small petrol and CNG cars. The tax will be 2.5 percent on diesel cars and 4 percent on SUVs and other luxury cars. In addition to the infrastructure tax, there will be a 1 percent service charge on purchase of luxury cars that cost over Rs 10 lakh. Jaitley also said a 4 percent additional levy would be imposed on high-capacity passenger vehicles and SUVs. With these new taxes, many car-makers are expected to increase prices of their vehicles in the coming days.