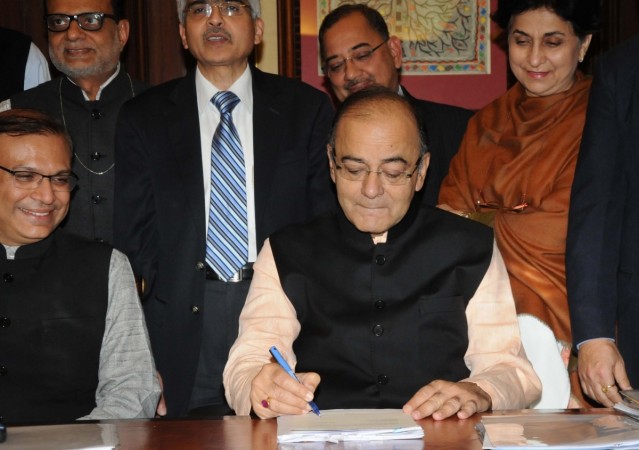 LIVE UPDATES:
13:47 p.m. IST: After falling over 600 points during Arun Jaitley's Budget speech, the Sensex advanced 61 points to 23,215 and Nifty rose 25 points at 7,055.
12:52 p.m. IST: Sensex crashes over 600 points and Nifty down over 200 points on Budget taxation proposals.

12:41 p.m. IST: Arun Jaitley ends his Budget speech. Lok Sabha has been adjourned till Tuesday.
12:40 p.m. ISt: I propose to abolish 13 different taxes levied by various Ministries in which revenue collection is less than Rs 50 crores per year: Jaitley
12:36 p.m. IST: "Penalty to be 50% of tax in income under-reporting cases, 200% in misreporting of facts": Jaitley
12:34 p.m. IST: The government will introduce a bill to amend the Companies Act for ease of doing business that willl enable registration of companies in a day: Jaitley
12:28 p.m. IST: Excise duty on tobacco products increased by 10-15%, bidis exempted.
12:27 p.m. IST: Pollution: infrastructure cess of 1% on small petrol and CNG cars, 2.5%on diesel cars.
12: 27 p.m. IST:15% surcharge on income tax for those with incomes exceeding 1 crore per annum
12:22 p.m. IST: Affordable housing: HRA deduction up from 24,000 to 60,000 per annum. Service tax exempted for housing construction of houses less than 60 sq. metres.

12:16 p.m IST: Corporate tax: "Incentives for new manufacturing companies and relatively small enterprise companies": Jaitley
12:09 p.m. IST: Tax reforms: The thrust of tax proposals for 2016-17 falls in nine categories - relief to small taxpayers through rebates,
Ceiling of tax rebate for tax payers with up to Rs 5 lakh annual income to be raised to Rs 5000 from Rs 2000. One crore tax payers under this category will be benefited.
"People who do not have any house of their own get a reduction of to 60,000 Rs. under Section 88G.
12:08 p.m. IST: Fiscal deficit for 2016-17 targeted at 3.5%: Jaitley. "Revenue deficit estimate for 2015-16 down to 2.5% from earlier estimates."
11:58 a.m. IST: Jaitley announces Rs 25,000 crore for recapitalisation of public sector banks. This is nearly thrice the provision of Rs 9,555 crore made in 2015-16 for the recapitalisation of public sector banks. However, the allocation is reportedly short of expectations.
11:54 a.m. IST: "I propose to amend the SEBI Act 1992."
11:52 a.m. IST: "100% FDI through FIPB route in marketing of food products produced and manufactured in India": Jaitley
11:48 a.m. IST: Rs 3,000 crore has been earmarked for nuclear power generation.
11:46 a.m. IST: "The total outlay for infrastructure in Budget 2016 stands at Rs 2,21,246 crore.
11:42 a.m. IST: "Rs, 55,000 crore allocated for roads and highways": Jaitley. The total investment in the road sector would be Rs 97,000 crore during 2016-17.

11:35 a.m. IST: A Higher Education Financing Agency to be set up with a fund of Rs 1000 crore. Digital literacy scheme to be launched to cover 6 crore additional rural households.
11:31 a.m. IST: "Rs 2,000 crore to meet initial cost of providing LPG connections to benefit 1 crore BPL households in 2016-17." The LPG connections will be in the name of women members of poor households, Jaitley said.
11:29 a.m. IST: 100% village electrification to be achieved by May 1, 2018: Jaitley. Rs. 87,765 crores for rural development as a whole have been allocated in Budget 2016-17.
11:27 a.m. IST: Rs 9,000 crore has been allocated to the Swacch Bharat Mission.
11:25 a.m. IST: Jaitley announces Rs. 38500 crores allocation to MNREGA.
11:20 a.m. IST: A dedicated irrigation fund worth Rs 20,000 crore to be set up under NABARD, Jaitley says. Rs 19,000 crore to be allocated for the Pradhan Mantri Gram Sadak Yojana. while Rs. 5500 crores will be allocated to the Fasal Bima Yojana for 2016-17.
11:15 a.m. IST: "Our total allocation on farmers welfare is Rs. 35,984 crore. Five lakh acres to be brought under organic farming over a three year period": Jaitley
11:13 a.m. IST: "My budget proposals undertake transformative measures built on nine pillars - agriculture and famers' welfare, rural sector and rural employment, social sector, education and job creation, infrastructure investment, financial sector reforms, ease of doing business, fiscal discipline, and tax reforms."
11:11 a.m. IST: "Farm, rural sector, infrastructure, social sector to have more Government expenditure."
11:10 a.m. IST: The government is launching a new initiative to ensure BPL families are provided with cooking gas subsidies.
11:09 a.m. IST: "Budget 2016-17 will cast an additional burden on account of recommendations of the Seventh Pay Commission and the implementation of OROP."
11:08 a.m. IST: "The risks of global slowdown and turbulence are mounting. We must strengthen the firewalls against these risks. We must rely on domestic demand and Indian markets to ensure Indian growth does not slow down."
11:06 a.m. IST: Jaitley highlights achievements of the Modi government - Growth of GDP has accelerated to 7.6%. The CPI inflation has come down to 5.4%.
"Our initiatives in the last 21 months had bridged the trust deficit created by the previous government."
11:03 a.m. IST: "I am presenting the budget when the global economy is in a serious crisis": Jaitley. "The Indian economy has held its ground firmly. A lot of confidence continues to be built around India."
11:02 a.m. IST: Finance Minister Arun Jaitley begins Budget 2016 presentation.
10:39 a.m. IST: The Cabinet has approved the Union Budget, according to the Press Trust of India.
10:05 a.m. IST: Cabinet meeting begins in Parliament ahead of the Budget.
9:49 a.m. IST: Jaitley and Minister of State Jayant Sinha reach Parliament to present Budget 2016-17. Where to watch budget LIVE.
9:35 a.m. IST: The Sensex opens 38.86 points lower on the day of the Budget 2016. It is currently at 23,115.44.
Finance Minister Arun Jaitley is set to present the second full-fledged budget of the Narendra Modi government Monday, and expectations are high on announcements of reforms, relief for farmers as well as for the industry.
Jaitely's finance ministry had called for suggestions on the Budget 2016 on Twitter, and many people voted for farmers and the agriculture sector to be given maximum focus.
Budget 2016: Twitterati vote for farmers, Make in India in finance ministry's Twitter poll
During his regular "Mann Ki Baat" radio programme, Prime Minister Narendra Modi said the Budget 2016-17 was his "big exam."
"The country's 125 crore people are going to take my examination," Modi said while wishing students who are appearing for their board exams.
[1 lakh = 100,000 | 1 crore = 10 million | 100 crore = 1 billion]