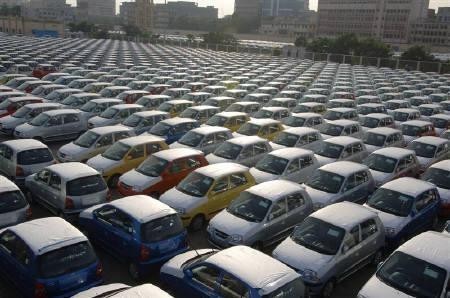 If you are planning to buy car, add some more pennies to you fund: Finance Minister Arun Jaitley has announced in Budget 2016 the government will levy Infrastructure tax on all four-wheelers, including even small cars.
Jaitley, in his Budget speech, said the government would levy 1 percent additional infrastructure cess on small petrol and CNG cars. The tax will be 2.5 percent on diesel cars and 4 percent on SUVs and other luxury cars. The new tax will essentially increase the price of vehicles in the coming months.
In addition to the infrastructure tax, there will be 1 percent service charge on purchase of luxury cars that cost over Rs 10 lakh. Jaitley also said a 4 percent additional levy would be imposed on high-capacity passenger vehicles and SUVs.
The relief for the industry came in the form of allocation of Rs 97,000 crore on infrastructure for roads and highways. Exuding optimism, Renault India CEO and MD Sumit Sawhney tweeted: "Allocation of Rs 97,000 crores for Roads and Highways for FY 17 is a big boost. (sic)"
One of the major manufacturers that will be hugely impacted by the decision is utility vehicle specialist Mahindra & Mahindra. "In summary, despite our disappointment on the tax on cars, I see no reason for the mayhem in the market, (sic)" tweeted, Anand Mahindra, Chairman and MD of Mahindra Group.
"The new cess on diesel, small cars is unexpected," said RC Bhargava, Chairman, Maruti Suzuki in an interview with ET Now.
PricewaterhouseCoopers Partner Abdul Majeed told International Business Times India, India: "The immediate impact of Budget 2016 in the automobile industry is a hike in price, which is inevitable. However, the government has reduced the burden of the common man by imposing 1 percent service charge on cars priced only above Rs 10 lakh. The Budget primarily focuses on rural economy growth, hence allocation for the automobile sector is lower. This is slightly disappointing for the industry."
The increase in levy has come at a time when there has been a lot of discussion on increasing levels of pollution in the country by the vehicles. It is noteworthy that the finance minister did not say anything on electric and hybrid vehicles. Incentives for scrapping of old vehicles and reduction of excise duty for large cars and SUVs were the other popular demands from the industry that got no consideration.