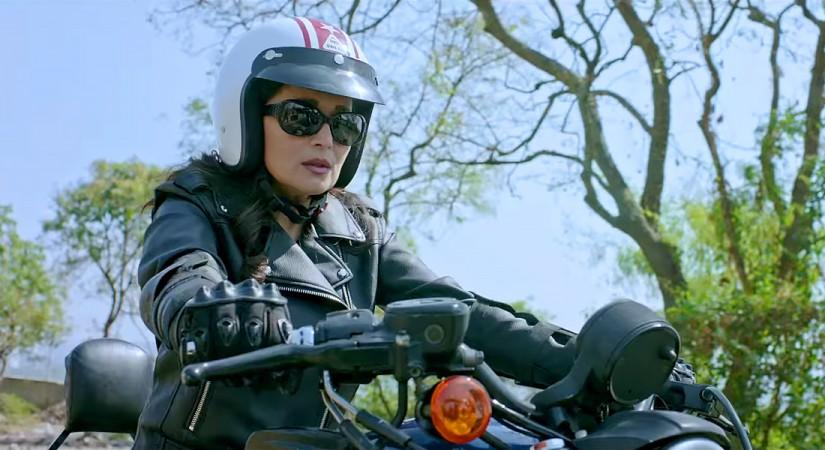 Madhuri Dixit Nene is back on the silver screen to steal your heartbeats but this time with her Marathi debut film Bucket List. The Tejas Prabha Vijay Deoskar directorial released in theatres across India on May 25 and it has been receiving rave reviews from the critics.
Madhuri in and as Madhura Sane is a doting mother, a housewife, and a daughter-in-law who always tries to fulfil every tiny wish of her family members and full of energy.
The story revolves around Madhura's new-found interest in ticking the bucket list of a teenager named Sai who donates her heart to her. From learning how to ride a bike to getting drunk and partying with friends till getting arrested by the police, Madhura's journey leads to her self-discovery.
Critics have lauded Madhuri Dixit's sincere efforts in pulling off the entire movie on her shoulders. There were a few dull moments but they have been passed with a consolation. They also found similarities between Madhuri's character to that of Sridevi's character named Shashi in English Vinglish but felt that Madhura's situation was more regressive than Shashi.
While moviegoers are ticking off their bucket list of booking the movie tickets, read what the critics have to say about the film.
Dipti Kharude from The Quint: "The dull moments are but few in the film and Madhuri lights up the screen like a dancing swarm of fireflies. In the mood for a lighthearted family entertainer? This flawed Madhuri-starrer should whet your appetite. But if you're looking for a more evolved version of the actor, you may just have to wait, till she picks bolder narratives."
Nandini Ramnath from Scroll.in: "The 130-minute movie works best when it stays light and frothy. Madhura's cluelessness about the way in which the world works is conveniently deployed, and the low level of difficulty posed by Sai's bucket list are barely inspiring, even though they produce many moments of light comedy."
Kunal Guha from Mumbai Mirror: "A concern with the film is that it repeatedly hammers down the message it wants to convey. For instance, when the lead reaches her climax of self-realisation, she literally spells it out. "I've found myself. Initially, I was Mrs Sane, someone's mother, someone's daughter-in-law but now, I've become Madhura!" So basically, there's little left to interpret. Also, when most shun Madhura for her antics, her daughter reminds her, "It's no longer just a list, it's the purpose of your life.""
Keep watching this space for more updates.