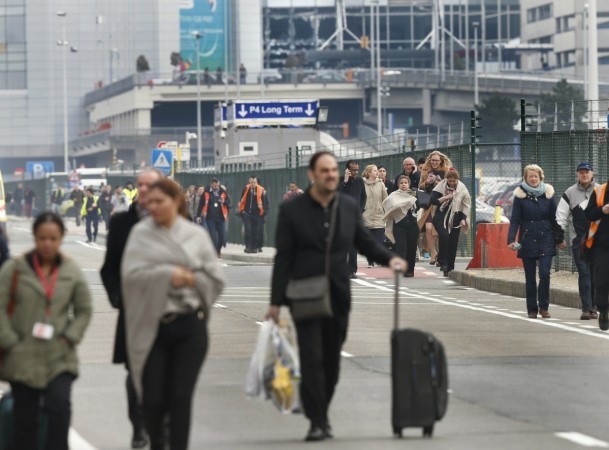 Global leaders expressed shock and condoled victims of the Brussels attacks Tuesday, even as the death toll from the multiple bomb blasts rose. Security was heightened across the world after multiple bombs exploded at an airport and metro station near the European Union offices.
British Prime Minister David Cameron tweeted Tuesday saying: "I am shocked and concerned by the events in Brussels. We will do everything we can to help." He also said that a Cabinet Office Briefing Room (COBRA) meeting in relation to the Brussels attacks will be held soon. The COBRA is the emergency crisis response system of the U.K.
Vladimir Putin, president of Russia, joined other world leaders in expressing solidarity against the deadly attack in the de facto European Union capital.
"Vladimir Putin has expressed his condolences on the civilian deaths in a series of explosions in Brussels," the official Twitter handle of Russia's president tweeted.
Also read: Brussels: Several 'dead and injured' in explosion at metro station near EU headquarters
Dutch Prime Minister Mark Rutte condemned the attack as "cowardly."
"Belgium is again hit by cowardly and murderous attacks. Our hearts go out to the victims and survivors and the Netherlands stands ready to our southern neighbours in any way to help and provide support," Rutte said in Dutch. "We will take all precautions necessary," RTLNieuws quoted Rutte as saying at a meeting with the Dutch Coordinator for Counterterrorism and Security (NCTV).
Vice-President of the European Commission Kristalina Georgieva tweeted: "Very saddened by tragic loss of life today in Brussels. My thoughts and prayers are with the victims and their loved ones. All EU institutions are at alert level ORANGE - all meetings on premises and outside cancelled, access only for staff with badges... Shocked by the terrible events in #Brussels this morning. My thoughts with those affected! Following closely the developments. Stay safe!"
The President of the European Parliament, Martin Schulz, has also condemned the attacks that killed at least 23 people in the Belgium capital. He tweeted, "My thoughts with Brussels and its citizens after these heinous attacks. Stay in a safe place, follow instructions of authorities."
Belgium's Prime Minister Charles Michel also tweeted assuring victims that "absolute priority" was being given to the victims and aid was being provided. He also said that people should stay where ever they are.
Meanwhile, India's Prime Minister Narendra Modi also took to Twitter to express his support with the bereaved European nation.
"News from Brussels is disturbing. The attacks are condemnable. Condolences to families of the deceased. May those injured recover quickly."
Russia Prime Minister Dmitry Medvedev also joined other world leaders in calling the attack in Brussels "barbaric." "The attacks in Brussels are a barbaric crime against civilians. We offer our profound condolences to the victims' families. This incident once again underlines the need for coordinated efforts by the international community to combat terrorism," he wrote in a Facebook post.