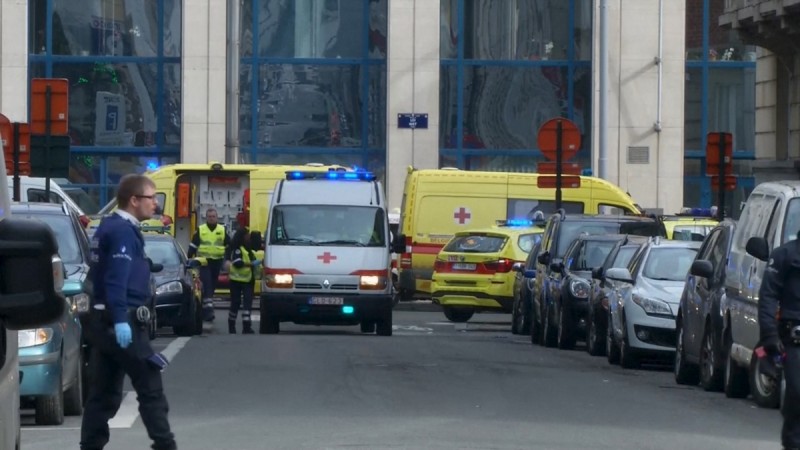 Update, 4:40 p.m.: At least 15 people were killed and 55 others injured in an explosion on Brussels metro at Maalbeek station Tuesday, Bloomberg Business cited Brussels metro.
Original Story:
Several casualties were reported Tuesday after an explosion on Brussels metro at Maalbeek station near European Union headquarters. This was followed by blasts at Brussels Zaventem airport.
Reuters reported, citing public broadcaster VTM, that at least 10 people had died in the metro explosion. Agence France-Presse had earlier reported that the metro blast had injured at least 15 people, but later quoted the police as saying that there were both "dead and injured" victims in the blast at the metro station.
The Associated Press had reported that one of its journalists was at the metro station and saw people with wounds on their faces.
"The metro was leaving Maelbeek station when there was a really loud explosion. It was panic everywhere. There were a lot of people in the metro," AP quoted one Alexandre Brans from the blast site as saying.
Following the explosion at the metro station, European Commission Vice President Kristalina Georgieva asked all European Union (EU) staff members at the headquarters in Brussels to remain indoors. ORANGE alert has also been issued at all EU institutions, and all the meetings, scheduled to be held either inside or outside the EU premises, have been cancelled, she said in a tweet.
The alert levels at the EU Commission are classified by colour codes: WHITE, YELLOW, ORANGE and RED. According to EUR-Lex, ORANGE alert is issued "when threats are made or exceptional events happen that endanger the integrity of staff, information, buildings and other assets and that are aimed at the European Commission or its functioning, even though no definite object, target or time of attack has been identified."
Early Tuesday, two explosions ripped through the departure hall of the Brussels airport, killing at least 13 people and injuring several others. There has been no official word on the casualties at the explosion sites.
The Brussels attacks occurred days after the Belgian police arrested Salah Abdeslam, the suspect in the Nov. 13 Paris attacks in which at least 130 people were killed and several others injured.
#BREAKING 'Dead and wounded' in Brussels metro blast: police

— AFP news agency (@AFP) March 22, 2016
.@AFP reporter @Cedsimon saw at least 15 injured at Brussels metro blast site. @Lachlan1959 was on train and felt blast #Maalbeek — Danny Kemp (@dannyctkemp) March 22, 2016
Bus, trams, métros ne circulent plus #STIB
Bus, tram en metro rijden niet meer #MIVB
Bus, tram and metro shut down #Brussels @CrisisCenterBE

— STIB-MIVB (@STIBMIVB) March 22, 2016
Following situation in Brussels. EU institutions working together to ensure security of staff& premises.Please stay home or inside buildings — Kristalina Georgieva (@KGeorgievaEU) March 22, 2016
All EU institutions are at alert level ORANGE - all meetings on premises and outside cancelled, access only for staff with badges

— Kristalina Georgieva (@KGeorgievaEU) March 22, 2016