The US President Donald Trump and his wife Melania Trump are on a four-day tour of the UK. The US first couple's first stop during their trip was at the Blenheim Palace where they joined Theresa May and other UK delegates. An excited heir of the Palace, Aristocrat George Spencer-Churchill, took to Instagram to livestream the Trump visit.
However, the 25-year-old's live feed played host to some disgraceful comments targeting the First Lady. Shockingly, the unwarranted remarks were from his friends.
Daily Mail reports that Made In Chelsea star Charlie Mills wrote, "Zoom in on Melania's a*** for me," while Bloodstock agent Sam Sangster placed a £50 bet for upskirting her. "£50 for a molina upskirt shot," he commented.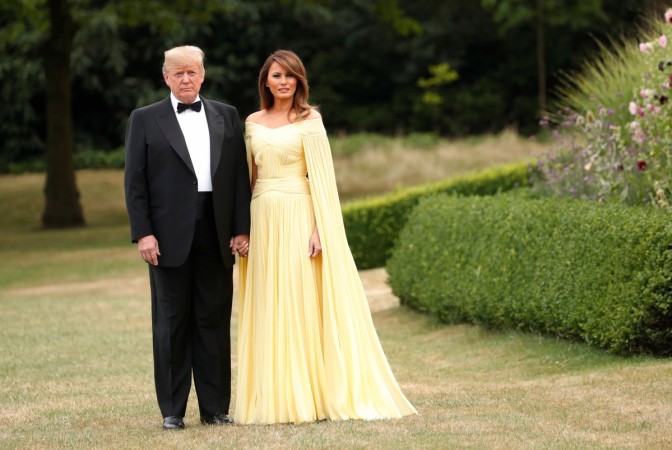 Other comments like "There are dirty communists standing outside of your house – shoot them!" also drew attention. However, George chose to ignore the statements and focused on enjoying the rare moment. He was also caught on BBC's camera holding up the phone while the Mays and Trumps posed for the press outside the Palace.
The Brit boy, who has played polo with Prince Harry, took to Instagram and shared a picture of Trump's helicopter with the caption: "Once in a lifetime."
The black-tie dinner on Thursday night witnessed many politicians and leaders from the world of business attending. It was the perfect opportunity for PM May to present her case for a new trade deal with the US following the Brexit.
Following the dinner, the Trumps paid a visit to the Windsor Castle and met Queen Elizabeth II. While it was a historic meeting, Trump, as expected, broke several royal protocols.
The couple was 12 to 15 minutes late for their meeting, making the Queen wait; the American couple reached out to the Queen to shake their hands which also led to massive outrage online and the biggest faux pas moment came when the POTUS turned his back to the Queen while inspecting the guard of honor.