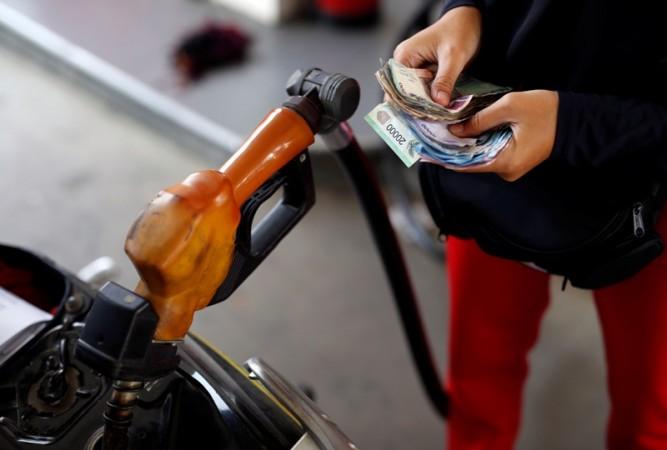 Brent Crude prices slid to a new five-year low hovering at $57 on Tuesday even though output disruptions in Libya put a temporary hold on the global supply glut.
For February delivery, Brent fell 25 cents to $57.63 as of 0528 GMT, after sliding to $57.37 in the previous session, its lowest level since May 2009, according to Reuters.
Oil prices rose to $60 on Monday after supply was disrupted in Libya. A fire caused by political clashes destroyed 800,000 barrels of crude -- two days worth of the country's oil output.
The scale of damage is reportedly being established and the government has contacted a US firefighting firm that will help put out the fire. Repair work at the oil storage facility is slated to start in the next five days.
Minimal Libyan Impact
Libya produces about 385,000 barrels per day and analysts say that the temporary stop of supply is just a small fraction of the total OPEC output of 1 million barrels per day, which wouldn't have much impact on the prices.
"The loss of a couple hundred thousand barrels from Libya will have a minimal impact on the global supply balance. There's about 2 million barrels a day of excess production right now, so this will just tighten things a little," Bob Yawger, director of the futures division at Mizuho Securities USA Inc. told Bloomberg in a telephone interview.
"A year ago this kind of headline ( the Libya fire) would have spurred a $3 to $4 rally. The market is so oversupplied right now that it can't muster a rally on what are bullish headlines," Phil Flynn, senior market analyst at the Price Futures Group told the agency over the phone.
Future of Oil Prices
Oil prices are expected to witness their steepest decline since 2008 and the second biggest annual slump since the 1980s.
Especially with the OPEC refusing to reduce output this time, oil prices are at free fall. Previously experts predicted oil prices to fall to $60 and stabilise there but the recent developments have sprung a surprise and some say that won't stop there.
"A prolonged period of low oil prices is also likely to result in durable economic, political and geopolitical changes that, not so long ago, would have been considered remote, if not unthinkable," Mohamed El-Erian, chief economic adviser at Allianz SE wrote for Bloomberg View.
Expect oil prices to keep falling in 2015.
"In the immediate term we think the stage is being set for that reduction in production. That's going to take some time but we believe that in January you're going to hear more announcements about reduction in drilling and production," Dan Heckman, a national investment consultant at U.S. Bank Wealth Management told International Business Times.
"Sometime in the second half of 2015 we'll finally see some relief and prices moving up a little bit ... but I don't see us going back up to $100 a barrel over the long term -- I'm talking about in the next 18 months to two years," he added.