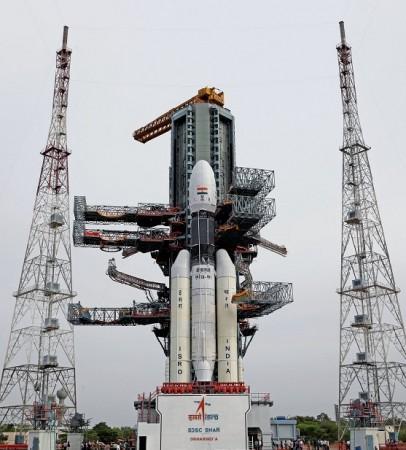 Indian Space Research Organisation (ISRO) announced on Thursday, July 18, that the Chandrayaan-2 will be launched at 2:43 pm IST on July 22.
India's lunar mission was halted an hour before its scheduled launch emerged on Tuesday, July 16 due to "technical snag" that was observed in the launch vehicle system. The decision to abort the mission was taken as "a measure of abundant precaution' after a helium gas was found leaking in the cryogenic upper stage of the Geosynchronous Satellite Launch Vehicle Mark III (GSLV Mk-III).
"After filling liquid oxygen (oxidiser) and liquid hydrogen (fuel), helium was being filled. The procedure is to pressure the helium bottle up to 350 bars and regulate the output to 50 bars. After filling helium, we found the pressure was dropping, indicating there was a leak," senior ISRO scientists told TOI.
The recent lunar mission follows the success of Chandrayaan 1, India's first expedition to the moon which confirmed landmark discoveries in 2008 such as the presence of water on the moon. Chandrayaan 2 was designed to explore the dark side of the moon that faces away from the earth and is scheduled to spend 14 Earth days on the lunar surface.
A successful launch will make India the fourth county in the world to make a controlled spacecraft landing and access the lunar surface. The mission will help India achieve global space power status after the US, Russia and China - the only countries in the world who have achieved the feat till now.
It was earlier reported that the launch of Chandrayaan-2 was pushed to October.