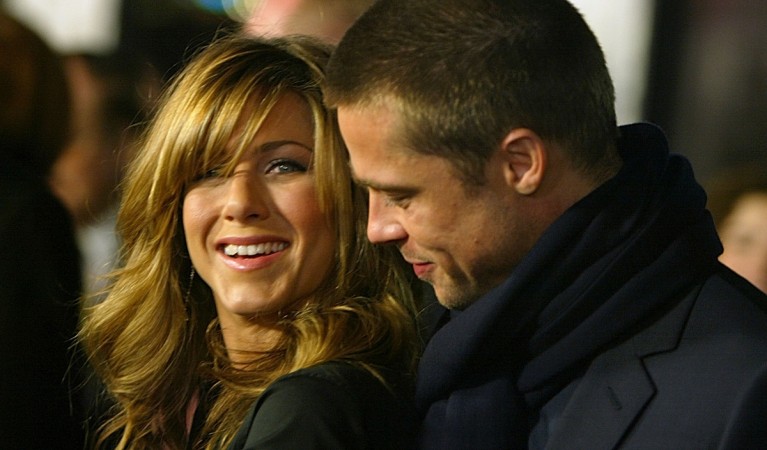 Brad Pitt and Jennifer Aniston are both living independent lives after their split from their respective partners. Both the former partners are focusing on their movie projects and trying to create a healthy environment for their loved ones.
A recent report claimed that Jennifer Aniston has allegedly sent an invitation to Brad Pitt to come over to celebrate her 50th party in February. The absurd claim was soon debunked by a fact-checking website.
As per a report by Heat, Murder Mystery movie actress Jennifer Aniston is organizing a grand birthday party to celebrate the moment when she will turn 50. As per an alleged insider, Jennifer has invited her ex-husband Brad Pitt, who "has already RSVP'd with a big fat 'Yes'."
The insider kept on revealing that Jennifer tried to hide her friendship with Brad but wants everyone to know that she and Brad are back in touch with each other. At the same time, she cannot wait to see how everyone will react after he will turn up at her star-studded bash.
"He's been told about the party and promised Jen he'll be there, barring a catastrophe. Brad agrees there's no need for their friendship to be under the radar anymore and he's touched that she wants to make this point on such a special occasion," the alleged insider added.
At the same time, as per the alleged claim, Angelina Jolie is annoyed by the news but both Brad Pitt and Jennifer Aniston do not care what she has to say on their friendship.
When Brad Pitt split with Angelina Jolie, many wrongly assumed that he will get back with one of his former partners. But when Jennifer Aniston and Justin Theroux ended their marriage, many supposed that Brad Pitt and Jennifer Aniston will now give their love a second chance.
As reported multiple times in the past, Brad Pitt and Jennifer Aniston are not seeing each other. Ever since their divorce in 2005, the former couple has not been in touch with each other in any capacity and despite multiple claims, there is not going to be any kind of a reunion.
Meanwhile, Jennifer Aniston's rep has confirmed to Gossip Cop that the tabloid's story of Brad Pitt attending Jennifer's birthday party is completely "made-up."