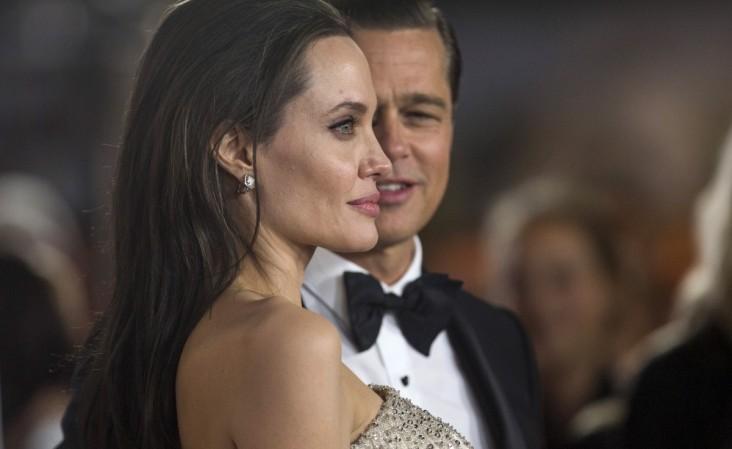 The custody battle of Brad Pitt and Angelina Jolie's six children has now taken a dramatic turn. Reports claim that "dynamite" audio recordings of Jolie might stop her from winning the primary custody of her six children.
Sources close to the couple have told the Sun that Pitt has audio recordings of Jolie that would be dynamite against her if it were revealed to the public. The audio recordings surfaced after Pitt was given a clean chit in the child abuse case. Pitt was accused of verbally and physically abusing son Maddox in September, but he has been cleared of all allegations now.
"We believe audio tapes exist of Angelina that would be absolutely dynamite against her if they were to be made public. Nobody wants to play dirty like that - it's not good for the children - but Angelina and her team seem absolutely hell-bent on trying to discredit Brad in order to stop him getting joint custody," a source told the Sun.
"Yes, there was an argument on a plane between him and Maddox, but that's it. It's not abuse. Brad has made it obvious that he wants to come to a mature arrangement and stop throwing dirt at each other," the source added.
The leading daily has not confirmed whether Pitt will use the audio recordings in the court, but it looks like that the custody battle for Brangelina's six children – Maddox, 15, Pax, 12, Zahara, 11, Shiloh, 10, and twins Knox and Vivienne, 8 – will not be easy.
After filing for divorce from Pitt, Jolie requested for the physical custody of their children, on the other hand, Pitt has filed for joint custody of the children. "I am very saddened by this, but what matters most now is the well-being of our kids," Pitt told People in a statement in September. "I kindly ask the press to give them the space they deserve during this challenging time," he added.