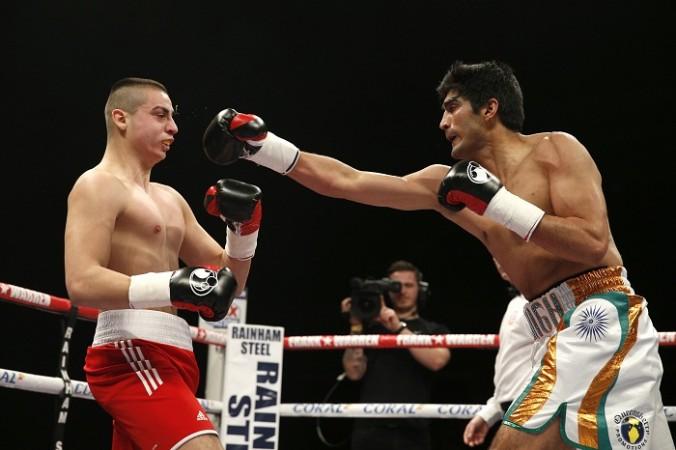 In boxing, the best way to move up is by challenging some of the big names of the sport, and Indian Vijender Singh also wants to take the same path. The WBO Asia Pacific champion hinted at a possible fight with British star Amir Khan, who, in turn, warned him for making such a 'wish' too early in his career.
The 2008 Beijing Olympic Games bronze medallist's promoter Francis Warren had also stated that tentative talks have taken place for a fight between the two boxers in India.
Though Khan might have referred to Vijender as a 'kid' in a tweet, the boxer had admitted a few months back, that he was interested in fighting the Indian boxer, who also expressed his desire for the same.
Vijender has been impressive inside the boxing ring since turning pro last year. He has not lost a single bout, and even defeated former European Champion Kerry Hope to win his maiden title on Saturday.
It was this brilliant performance against the Welsh-born Australian, which made one realise that Vijender is ready to take the next big leap, and fight against some big names of the boxing world. The recently-crowned champion did exactly that, talking about fighting Khan, who also had a word or two to say about the challenge on Twitter.
As of now, fans are not sure whether the fight will come to fruition, but if it does, the bout, which is expected to be fought in India, will prove to be a major landmark as far as porfessional boxing in the country is concerned.