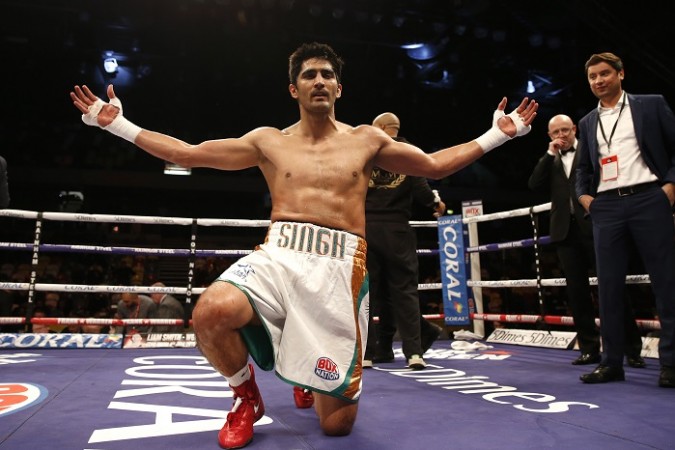 Vijender Singh reached another high in professional boxing, with the Indian boxer showing some amazing skills to clinch the WBO Asia Pacific title in a jam-packed boxing hall at the Thyagaraj Sports Complex in New Delhi on Saturday.
Vijender defeated Welsh-born Australian Kerry Hope via unanimous decision in a fight, which lasted the entire distance of 10 rounds. The triumphant boxer dedicated this special victory to Muhammad Ali.
The victory meant huge for the boxer, who was in tears after getting that prestigious title, and high-profile Indian celebrities flooded Twitter with their congratulatory messages as well.
"I'd like to dedicate this title to Mohd Ali – he passed away recently. We have been working hard for this. Finally we did it and we will work to improve my ranking now. Thank you India! I didn't expect it to go to ten rounds. It is all to my country, not about me," Indian Express quoted Vijender as saying.
With this victory, the boxer is undefeated in his pro career, winning all his seven fights since last year. However, this fight was expected to be his toughest so far with Hope being a former European champion as well. The Australian had more than 30 fights to his name as well.
Vijender was not perturbed by any such records of Hope, who looked second best in the entire bout. Right from the outset, there was an air of confidence in Vijender, who landed a right jab in the first round itself to show his superiority inside the ring.
The home favourite was patient, trying to knockout the boxer with his vicious right in the next few rounds. The Indian boxer should also be applauded for his brilliant defence as Hope's punches were easily avoided by Vijender. The first few rounds were quite close, but Vijender definitely looked better out of the two.
Vijender had a great eight round, where he connected some massive punches, and one thought the the Australian would be knocked out. But Hope looked determined and hung on till the end of the round. With two more rounds to go, both the boxers went all out to get that winning punch to emerge victorious, but neither could land that blow.
This was the first fight in Vijender's pro career that the boxer could not land a knockout blow, but the Indian boxer was declared the winner to take the fans to the highest possible level of excitement.
Here are some sportspersons, politicians, and Bollywood celebrities sharing their thoughts on Twitter, after the bout.