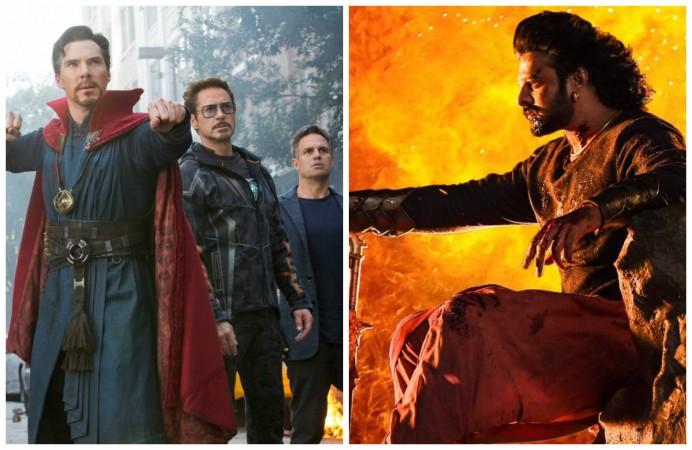 Hollywood movie Avengers: Infinity War has been roaring at the India box office with a record-breaking collection. However, the superhero film created a big record even before its release and is almost at par with Baahubali 2.
Based on Marvel comics superhero characters, Avengers: Infinity War has left behind all other Hollywood movies to record the highest-ever advance ticket sales on BookMyShow. In a statement, the ticket booking website stated that they have already sold 1 million tickets of the 3D action movie, and it's now just behind Baahubali 2 in all-time advance booking sale.
The most advance sale of tickets in India was reported in metro cities like New Delhi, Mumbai, and Bengaluru. Smaller cities like Bhubaneswar and Trivandrum have also witnessed massive craze for the movie.
While the Hindi version of Avengers: Infinity War contributed to the highest advance sale of tickets on the website, regional language versions of the movie added 25 percent of the sale, the statement stated. In addition, BookMyShow has alone sold close to 65 percent of the total IMAX ticket inventory available for the opening weekend of the film.
It's indeed a great achievement for Avengers: Infinity War to dethrone all other Indian movies except Baahubali 2 to claim the second slot in having the highest advance ticket sales on BookMyShow.
Although the American film failed to beat the opening weekend box office collection of Baahubali 2 in India, it managed to earn huge money despite having a limited screen count of 2,100.
Avengers: Infinity War collected Rs 31.30 crore net at the India box office on its opening day, followed by Rs 30.50 crore on Saturday and Rs 32.50 crore, taking its first-weekend collection to Rs 94.30 crore net.
On the other side, with around 4,000 screen count in India, Baahubali 2 had earned Rs 128 crore net at the India box office over its first weekend. Hence, even with half the number of screen counts, Avengers: Infinity War is just around Rs 34 crore behind Baahubali 2 in terms of opening weekend business in India. Interestingly, both Baahubali 2 and Avengers: Infinity War got released on the last Friday of April.
"Avengers: Infinity War is not just a movie, it's a historic event and the excitement around the movie's release is palpable," said Bikram Duggal, Executive Director and Head, Studio Entertainment, Disney India in a statement.
Considering the current pace and the craze around the film, Avengers: Infinity War is likely to break several other box office records not just worldwide but also in India.