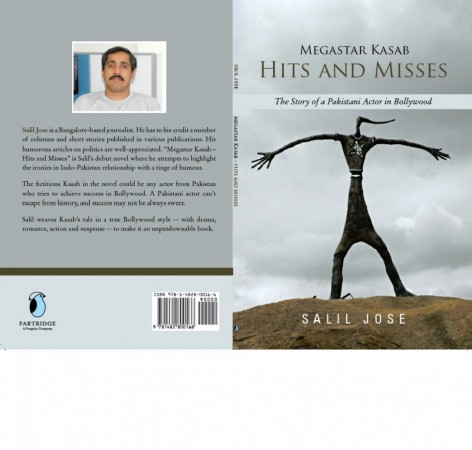 'Megastar Kasab - Hits and Misses: The Story of a Pakistani Actor in Bollywood' brings to fore an aspiring actor's fiery ambitions in the dark underbelly of India's film industry. In his debut novel, Salil Jose tries to induce irony by naming his protagonist after a notorious terrorist and lacing in his mind the chronically conflicting relations between the two neighbouring countries.
The story begins with Kasab's struggles to realise his dreams amid fierce competition from Aditya, an Indian peer who in the comfort of his home territory attempts to overshadow his rival's steadily growing popularity in the industry. Driven by the need to soften the perpetually sour geopolitical enmity, Kasab uses his ethnicity and generosity as tools in his rise to stardom. Giving into the web of deceit weaved by co-star Ankita, the young actor is introduced to a world of scenic beauty in a Belgaum locale. The events that unfold in Aastipur force him back to his homeland. A once-in-a-lifetime offer to act in a biopic of himself brings Kasab back to Mumbai, where he eventually wins empathy from fans and a megastar status. But he soon encounters another set of ironies and contradictions which India presents to him.
Author Jose's crack at irony by naming his central character Kasab, embodying him as a unifier between two nations and making him stand in stark contrast to Ajmal Kasab - the face of 2008 Mumbai blasts, at a time when India is still reeling in the aftermath of the deadly terrorist attack, could have been a brilliant read, if not for its lack of depth. Kasab's character seems shallow, given his unexplained feelings for Priya which seems to be the typical girl-meets-boy filmy sort of romance. On a positive note, Jose gives nothing away, either from the title or the blurb, of the central plot but this too seems to lack originality.
Verdict: 'Megastar Kasab - Hits and Misses: The Story of a Pakistani Actor in Bollywood' is a short read that leaves you asking for more.
The book, published by Penguin's sister company Partridge, is available on Amazon and Flipkart.