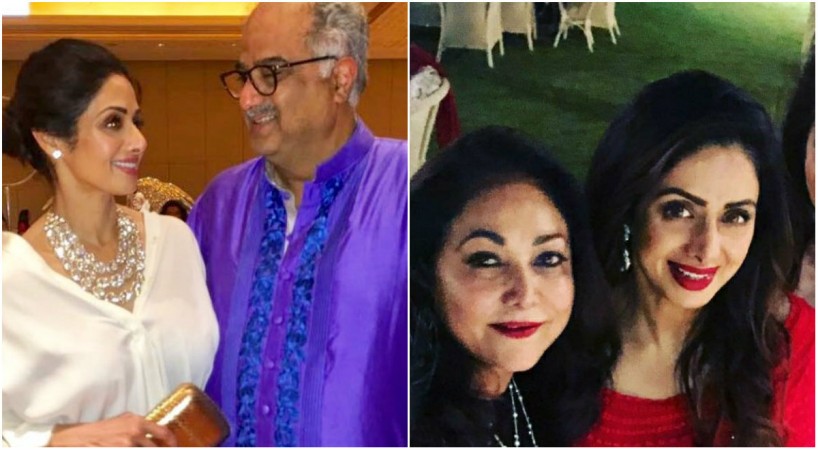 Sridevi's friend Tina Ambani recently made her husband Boney Kapoor cry with her heartfelt gift in the memory of the veteran actress.
The Ambanis are quite close to the Kapoor family. In the late actress' memory, Tina gifted Sridevi's photo in a silver frame and after seeing it, Boney couldn't hold back his tears.
"Tina has gifted a gorgeous silver frame of Sridevi's candid picture that was clicked during her 61st birthday bash. Who knew it would turn out to become Sridevi's last get together in Mumbai. Boney was really touched when he saw the picture. He couldn't hold back his tears and thanked Tina for bringing back some sweet memories," a source told Bollywood Life.
After immersing Sridevi's ashes in Rameswaram, Tamil Nadu, on March 4, Boney Kapoor, Anil Kapoor, Manish Malhotra, Amar Singh and other family members had gone to Haridwar for another ceremony on March 8.
Sridevi died in Dubai on February 24 and her body was brought to Mumbai on February 27. The cremation ceremony was held the next day when the entire Bollywood fraternity appeared to offer their last respect.
Amitabh Bachchan, Shah Rukh Khan, and Katrina Kaif were the stars who appeared at the cremation ground. Later, Boney had posted a heartfelt letter on social media and then daughter Janhvi Kapoor too shared her emotions online.
Now, there will be a prayer meet in Chennai for Sridevi. There are reports doing the rounds that Sridevi's Chennai bungalow will reportedly go to her sister Srilatha.
"Srilatha has been asked to remain quiet and out of the picture. We don't know why. We've also heard that Srilatha and her husband Satish will be given ownership of Sridevi's bungalow in Chennai," a source close to the Kapoor family told Deccan Chronicle.
Janhvi is set to make her debut this year with Karan Johar's Dhadak. People assumed that the release date will be postponed due to Sridevi's untimely demise, but the debutante has already started the shoot of her movie.
The pictures from the set were doing the rounds and Janhvi looked like the spitting image of Sridevi in those photos.