While Boney Kapoor's family including his children from the first marriage – Arjun Kapoor and Anshula Kapoor – have been actively involved in all the proceedings of Sridevi's death, and are lending their full support to the bereaved family, surprisingly, Sridevi's immediate family members have been quiet throughout.
A few days post the death of the legendary actress, it was reported that her sister Srilatha was planning to break her silence and would reveal some critical details, however, even after almost 15 days of Sridevi's sad demise, Srilatha continues to remain tight-lipped.
But now, the real reason behind Srilatha's silence is revealed. According to a report, Srilatha has been asked to remain quiet and out of the picture.
In fact, the report said that Sridevi's sister and her husband Satish would be given the ownership of the late actress' bungalow in Chennai.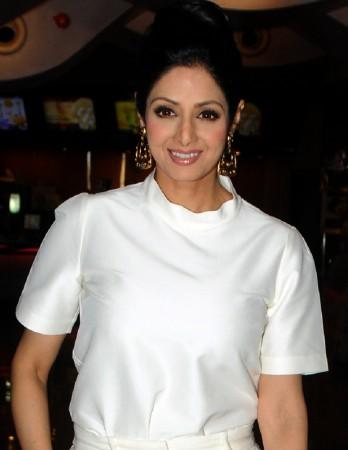 "Srilatha has been asked to remain quiet and out of the picture. We don't know why. We've also heard that Srilatha and her husband Satish will be given ownership of Sridevi's bungalow in Chennai," a source close to the Kapoor family told Deccan Chronicle.
The report further said that a few properties that were bought from Sridevi's earnings were registered in her parents' name for tax purposes. Given that she lost touch with the Chennai properties after she moved to Mumbai, it is logical for the Kapoor family to hand over the actress' Chennai house to Srilatha.
Apparently, Sridevi's relation with her immediate family had never been peaceful. Both the sisters had a property dispute and were also involved in a legal battle several years ago. It was not until Boney intervened that the siblings buried their hatchet and maintained a cordial relationship.
Meanwhile, the Kapoor brothers - Boney and Anil - along with friend Manish Malhotra and others, immersed parts of Sridevi's ashes in the holy Ganga in Haridwar on March 8. A similar ritual was performed in Rameshwaram, Tamil Nadu, on March 4 where Boney was accompanied by his daughters Janhvi Kapoor and Khushi Kapoor.
For the uninitiated, Sridevi died on February 24 due to accidental drowning in a bathtub in a hotel room in Dubai. Three days after her death the 54-year-old's body was flown back to Mumbai following clearance from the Dubai police authorities. Thousands of Sridevi's well-wishers gathered outside her house to pay their last respects during the prayer meet.