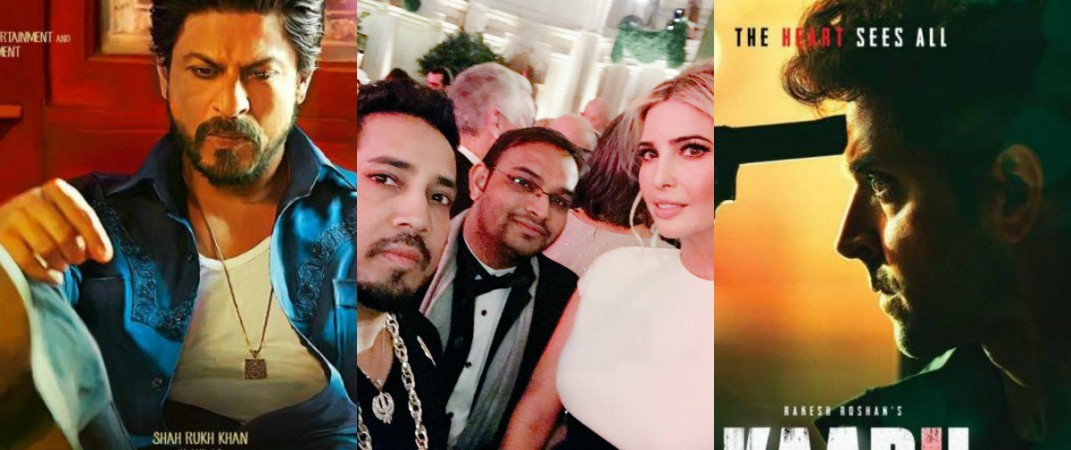 The advance booking of Raees and Kaabil has begun and one can see the competition while booking tickets online. Earlier, Kaabil's first show was supposed to be on January 25 at 6pm , but then the makers shifted the timing to morning along with Raees.
Also read: Hrithik Roshan admits to being sad about Raees, Kaabil clash
Check out Raees-Kaabil related news and other Bollywood buzz here:
Mika Singh at Donald Trump's pre-inaugural dinner party
Bollywood singer Mika Singh grabbed eyeballs with his photo with Ivanka Trump at Donald Trump's pre-inaugural dinner party. "Enjoying this wonderful party..thanxx @IvankaTrump for such a great hospitality.. it is lovely meeting you God bless," Mika tweeted.
His other tweets with Trump's photos were: "It is a great honour for me to be attending the most prestigious dinner in Washington DC with the president of the US."
"What a privilege it is being in the same vicinity as @realDonaldTrump. His presence has brightened up the whole evening."
Kareena Kapoor Khan to walk the ramp
Post-pregnancy, Kareena will grace the Lakme Fashion Week 2017 in February as Anita Dongre's showstopper. Bebo has always been a part of this fashion show and most of the time as the showstopper. Kareena last walked LFW when she was heavily pregnant.
Raees and Kaabil's advance booking
Pre-booking of Shah Rukh Khan's Raees and Hrithik Roshan's Kaabil has begun. Many theatres in Delhi, Bangalore and other metropolitan cities have offered advance booking service and one can book it online via book my show.
Harshvardhan Kapoor vs Filmfare
Diljit Dosanjh's win at the Filmfare Awards for Best Debut (Male) seemed to have irked Mirziya fame Harshvardhan Kapoor. The actor has won all the debut awards except the Filmfare title resulting in a Twitter war between the Kapoor lad and Filmfare. He pointed out the flaw at the particular award and claimed Diljit had made his Bollywood debut in 2008. On this, Filmfare editor Anuradha Tiwari tweeted: "The sense of self entitlement some of these newcomer actors have is beyond imagination. If only they were half as talented." To this, Harshvardhan replied: "It's not entitlement it's an opinion just like how your magazine always has one."
Sunil Grover's reason for not promoting Coffee With D
The Kapil Sharma Show's member, Sunil Grover, appeared in a Bollywood movie, Coffee With D. The surprising fact was that he didn't promote his film, not even on his own show. According to Sunil, he has not seen the film before the release. "I haven't been shown the film. I don't know what the content is. I asked the producer-director Vishal Mishra repeatedly to be shown the film, and he kept saying I'll be shown the film. But eventually, he didn't show it to me. Aaj-kal-aaj-kal mein waqt nikal gaya (Time just went by). Now it's too late," Sunil Grover told IANS.