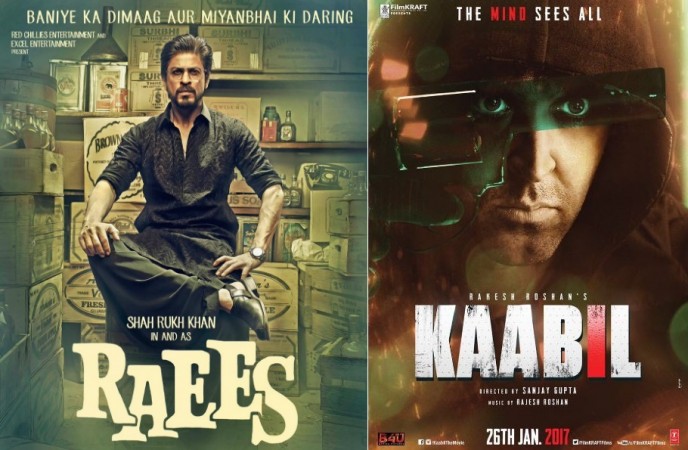 After Shah Rukh Khan, Kaabil actor Hrithik Roshan opened up about the clash between Raees and his film. Hrithik admitted to being sad about the box office clash, as both the big banner films are set to hit screens on January 25.
Also read: Advance booking of Shah Rukh Khan's Raees opens on a good note
"I feel sad that films have to clash like that, but I also feel that they must have done their best (to avert the clash). It is their baby also and they must also have looked at other dates. May be they didn't get a better date," Deccan Chronicle quoted Hrithik as saying.
He also explained that he understood how the makers of Raees have been struggling for a release for a long time. "Raees has been in the works, trying to get a release for the past two years, so I think a little better planning would have averted this clash. Now that it's happening, we have to be graceful about it and hope the best comes out of the situation," he added.
A few days ago, SRK too spoke about the clash and explained that they failed to find any other date to release their film. Though Kaabil's producer Rakesh Roshan is upset and hurt due to the clash, Hrithik seemed to have accepted the fact and is waiting for the result like all of us.
Meanwhile, let's take a look at a few common factors between Raees and Kaabil here:
Hrithik and SRK are paired opposite two beautiful actresses with whom they are working for the first time. Hrithik-Yami Gautam and SRK-Mahira Khan are the fresh pairs of 2017.
Shah Rukh and Hrithik's previous films – Fan and Mohenjo Daro – couldn't perform well at the box office. Thus, their upcoming movies are their chances to score. Hopefully, both the films will do well at the box office.
Both the actors are working with their directors for the first time. SRK and Rahul Dholakia have never worked together before Raees, and same is the case with Hrithik and Sanjay Gupta.