While many Bollywood stars are married and have settled down with their family, this doesn't appear to stop them from courting controversy with the alleged link-ups.
Here are eight married actors whose names have been linked to their co-stars:

While the "Bang Bang" actor is said to have dated actress Kareena Kapoor Khan before he was married, his alleged affair with his "Kites" co-star Barbara Mori is the one that kicked up a storm. At the time, Roshan was married to his childhood sweetheart Sussanne Khan , which added fuel to fire. The actor's alleged affair is said to be one of the reasons behind the A-list couple calling it quits.
While Shah Rukh Khan and wife Gauri's courtship and wedding is often compared to fairy tale, the actor's equation with Priyanka Chopra raised quite a few eyebrows. It has also been said that since these rumours Gauri was seen avoiding the former Miss World on many occasions.
Amitabh Bachchan
The love triangle in the film "Silsila" turned into reality when actors Amitabh Bachchan, Jaya Bachchan and Rekha faced a similar situation in real life. The alleged affair between the married Big B and Rekha was the talk of the town at the time, but the buzz later died down after Amitabh and Jaya put up a strong front.
Aamir Khan
Aamir Khan's 15-year marriage to Reena Datta crumpled when the actor started developing feelings for Kiran Rao. Though he and Datta split up, they said it was because of "temperamental differences." Aamir has also been linked to a British journalist Jessica Hines, who claimed that they also have a son named 'Jaan'.
Akshay Kumar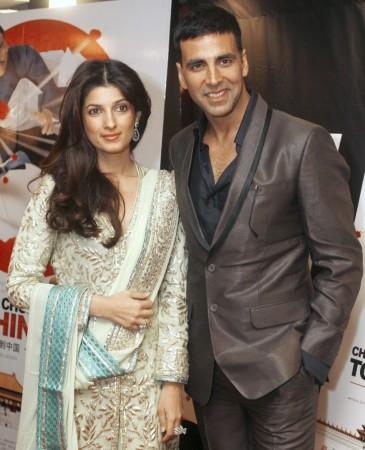 Akshay Kumar, who is married to Twinkle Khanna, has always been known for being very flirtatious and made headlines for his alleged link-ups with Shilpa Shetty and Priyanka Chopra. The actor's relationship with Chopra is said to have created issues in his marriage, after which Khanna has warned him against working with the "Mary Kom" actress.
Ajay Devgn
Ajay Devgn and Kajol are one of the cutest couples we see in Bollywood. The star couple has always had a stable relationship, till Devgn was linked to Kangana Ranaut during the filming of "Once Upon a Time in Mumbaai." However, neither Devgn nor Ranaut cleared the air.
Saif Ali Khan
Saif Ali Khan and his former wife Amrita Singh called it quits after rumours of Saif's affairs hit headlines. While, the Nawab's scandalous affair with Rosa Catalano went sour after a certain time, he appears to have found love in his current wife Kareena Kapoor Khan, who he married in 2012.

Govinda was married to his wife Sunita and had two children, when the affair between him and Rani Mukherji became the talk of the town. It is said that the two became quite close till Sunita decided to leave home. The actor then chose his family and has been with them since.