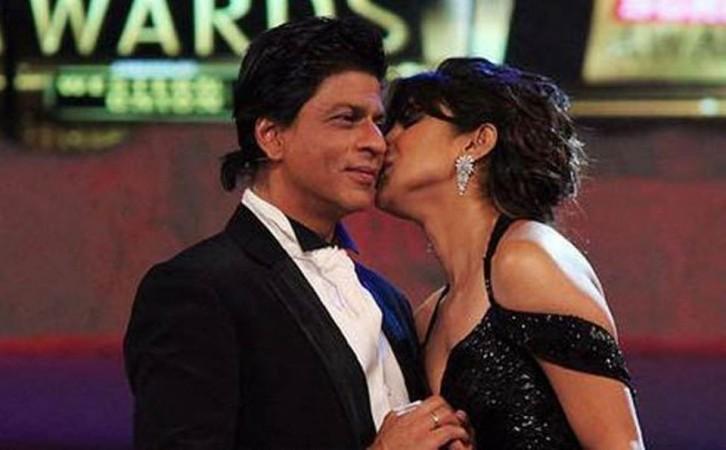 There was a time when Shah Rukh Khan and Priyanka Chopra made headlines for their rumored affair. Although the buzz around their rumored relationship has died down, there are some old videos on the internet that still remind fans of the controversial period.
In two such throwback videos, SRK is seen indirectly proposing Priyanka to marry him. One of the videos is from PeeCee's Miss India competition in 2000, in which Shah Rukh was a member of the judging panel.
As his question for Priyanka, the superstar threw a hypothetical situation to her asking if she would like to marry a cricketer like Mohammad Azharuddin or a business tycoon or a movie star like Shah Rukh.
"This is hypothetical. Who would you rather marry? A great Indian sportsmen with all the records in Indian cricket like Azhar Bhai here who would make our country proud, take you all around the world and make you swell with pride or an artistic business person with a difficult name to pronounce like Swarovski who would bedeck you with jewels and fine necklace and you will never have to buy a chandelier for your house ever again or a Hindi film star like me who has nothing better to do than give you complicated multiple choice questions about a hypothetical wedding like this," SRK had asked Priyanka.
However, the actress had very confidently taken Azhar's name with an explanation of why she would choose him.
In another instance, Shah Rukh proposed Priyanka during NDTV's Indian of the Year Award show. The Raees actor asked her to marry him by singing a song, which had left PC blushing. In her reply, Priyanka had said, "The answer to this question does not lie in any song nor in words".
Although there has not been any confirmation on their rumored affair, it was reported that SRK and Priyanka's romance had started during the shooting of Don. It was also reported that Shah Rukh's wife Gauri Khan had also gotten to know about their closeness, and had wanted the superstar to avoid doing films with her.