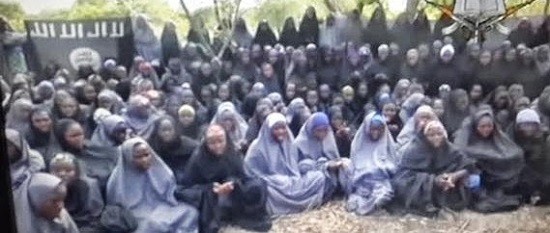 Boko Haram, the Nigerian Islamic militant group which abducted more than 200 Chibok schoolgirls in April, once again hit Borno State and has now kidnapped another 60 girls.
The abduction reportedly took place in Kummabza village, which is predominantly a farming community in Borno State. The 200-plus abducted schoolgirls, most of whom still remain untraced, also hail from Borno.
It is reported that the Nigerian government, which has been facing criticism for its failure to track the Chibok girls, tried to hush up the recent abduction.
Local news source Leadership reported that Boko Haram gunmen had carried out the abduction on Saturday. However, the government authorities tried to cover up the matter.
It was the local vigilante group which broke the news to the journalists, it is reported.
Aji Khalil, a member of the vigilante group from the area, told the local daily that the exact number of the kidnapped girls could be more than 60. During the Boko Haram raid, the gunmen also shot and killed four people, who tried to defend the girls.
The latest abduction of 60 girls is bound to increase the pressure on the Goodluck Jonathan government, which has declared a full-fledged war on Boko Haram. However, the Islamic militant group has continued on its terror path.
The Nigerian Army, on the other hand, has failed to track down the abducted Chibok schoolgirls till now, and the recent abduction has only made matters worse for them.
The Chibok abduction had generated mass interest, especially after the hastag #BringBackOurGirls became a major trending topic on Twitter.
Even though it has been two months, the Nigerian government, which has taken the assistance of specialists from the US, the UK, France and China, have been unable to trace the girls. In a recent announcement, Nigerian defense personnel claimed that it would take the help from Sri Lankan Army, which had faced similar terror problems.
The insurgent group had abducted the Chibok girls stating they want to discourage Western education for woman but that claim could be disputed.
The Nigerian Army had gained some vital information recently, following the arrest of a Boko Haram militant identified as Hassan Ali, who confessed in the interrogation that he had married two of the abducted schoolgirls.
The report had confirmed the worst fears of many that Boko Haram leader Abubakar Shekau wants to give off the girls to his own men.
Shekau, in a video message, had earlier stated that he would sell off the girls in the market as slaves. Later in another video, where the girls were all seen wearing hijab and praying, Shekau said that he converted the girls to Islam and will now marry them off.