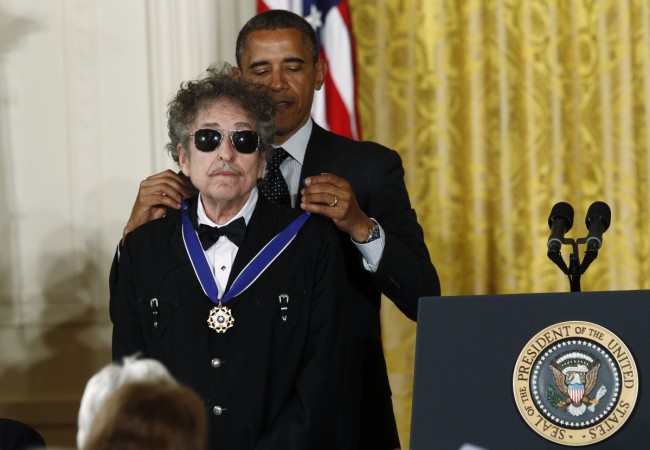 Singer-songwriter Bob Dylan has finally ended his silence on being awarded the prestigious Nobel Prize for Literature and has said the award left him "speechless." The prize for Dylan was announced on October 13.
Dylan called up the Swedish Academy and told them that he "appreciated the honour," said the statement from The Nobel Foundation. It is not clear if Dylan will be present at the December 10 award ceremony at Stockholm.
When UK newspaper the Telegraph asked him if he will attend the ceremony, Dylan said "Absolutely. If it's at all possible."
While Dylan became the first singer-songwriter to be awarded the literature prize, he had remained tight lipped about it until now. Dylan reportedly refused to pick up the phone in acknowledgement of the prize. His website apparently made a fleeting mention of the award, which was deleted within 24 hours, the report noted.
The UK newspaper further quoted him saying that the award was "hard to believe." It also noted that he was "genuinely bemused" by the brouhaha regarding his silence.
One of the members of the Nobel committee, last week, termed Dylan's silence as "impolite and arrogant."
French Philosopher Jean-Paul Sartre was the only person who famously refused the award in 1964.
Dylan's songs like "Blowin' in the Wind" and "The Times They Are a-Changin" had become anthems for the civil rights and anti-war movements of the 1960s.
Previously, Dylan has accepted awards like the 2008's Special Citation Pulitzer, 2009's the National Medal of Arts, 2012's Presidential Medal of Freedom, 1990's Ordre des Arts et des Lettres of France and the French Légion d'Honneur in 2013 among others.
Responding to the observation by a member of the Nobel committee that Dylan's contribution was similar to that of Greek poets Homer and Sappho, Dylan said some of his songs like "Blind Willie," "The Ballad of Hollis Brown," "Joey," "A Hard Rain," "Hurricane" and some others were "definitely are Homeric in value."
While many might believe that the singer doesn't deserve the honour, his fans, both old and new, will be grateful and looking forward for a possible speech during the December 10 award ceremony.