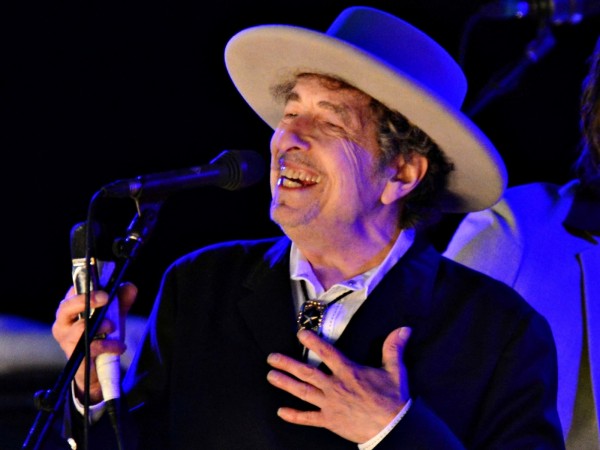 It may have taken the legendary singer-songwriter Bob Dylan over a week to acknowledge his Nobel Prize for Literature, but he was swift in deleting any trace of the award on his website.
The Guardian reported that the words "winner of the Nobel prize in literature," which appeared on the page for The Lyrics: 1961-2012, have now been removed.
According to the Guardian, some fans have suggested Dylan should refuse the title of Nobel laureate – though the Nobel committee does not acknowledge refusals, and continues to list its winners whether or not they want the prize – because the Nobel prize's founder, Alfred Nobel, was an armaments manufacturer.
"My only caveat about the award is that it cheapens Dylan to be associated at all with a prize founded on an explosives and armaments fortune," novelist and commentator, Will Self told the British newspaper.
But not everyone was thrilled with the Swedish Academy's nod to the archetypal Tambourine Man.
Matthew Schnipper, managing editor of Pitchfork, told PBS Newshour: "[It's] somewhat shocking—even disappointing that Dylan won. His work, certainly, is monumental," Schnipper wrote.
"But he is a musician, and his relationship with words is as a lyricist, someone whose prose exists inexorably with music. To read his lyrics flatly, without the sound delivering them, is to experience his art reduced," he added.
But if you thought Dylan was steadfast in his aversion to all things commercial (and there are some who feel the Nobel prize is often based on popularity rather than actual merit), one mustn't forget that Dylan has appeared in advertisements for Pepsi and Victoria's Secret, among others.
Dylan has often chosen to shy away from the limelight, most famously when he fell off the radar after a horrific motorcycle accident in 1966. In his memoir Chronicles, he wrote, "I had been in a motorcycle accident and I'd been hurt, but I recovered. Truth was that I wanted to get out of the rat race. Having children changed my life and segregated me from just about everybody and everything that was going on. Outside of my family, nothing held any real interest for me and I was seeing everything through different glasses."
But he has also been a willing footsoldier in the war against the establishment, even when the so-called 'Man' in question is traditional folk music. At the Newport Folk Festival in 1963, Dylan famously swapped his acoustic guitar for an electric one, causing uproar in sections of the crowd, and sending many critics into paroxysms of rage.
As John Gilliland said in his Pop Chronicles radio documentary in 1969: "It was as if he electrified one half of his audience, and electrocuted the other." Many predicted a career destroyed, but Dylan is nothing if not resilient, and the scandal proved merely a footnote in the career of arguably the greatest songwriter of all time.
The 75-year-old folk icon is the first American to win the Nobel Prize in literature since author Toni Morrison in 1993.