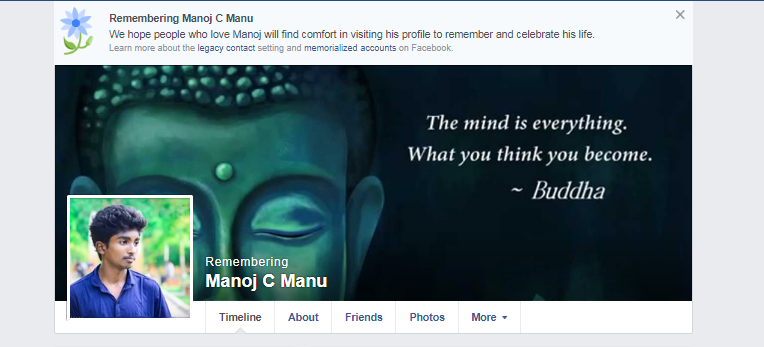 The infamous Blue Whale Challenge became popular in India with the death of a Mumbai teenager on July 29. Soon, reports had it that as many as 2,000 youngsters had already fallen prey to the cyber challenge that is claiming the lives of many across the globe after it was created by a Russian, Philipp Budeikin.
Also read: Is Blue Whale Challenge popular among youngster in Kerala?
On July 26, a 16-year-old had committed suicide in Thiruvananthapuram, Kerala, and his mother Anu now claims that she suspects that her son hanged himself to complete the Blue Whale Challenge. It is understood that the youngster had talked about the dare game to his mother nine months ago. A report by Manorama Online states that she had noticed several behavioural changes in him.
Vilapilasala native Manoj, who dared to spend time at a beach all alone and plunged into a river without knowing how to swim, had even hinted about his death to his mother. "He asked if I will be sad if he dies. He said even if he is gone, I have my daughter and asked me to give his share of love to her," Anu, who is a software engineer, told Manorama.
Also check: Banned Blue Whale Challenge game stirs up trouble in other forms
It is also learnt that traces of Manoj crossing a few levels of the challenge were found on his mobile phone. A day before the unnatural death of the youngster, he had alerted his friends about someone constantly trying to log in to his Facebook account.
"Frnds beware someone is constantly trying to get logged on to my account," reads the FB post of the deceased, who had also shared a screenshot of the notification that shows his social media account was logged in from an unrecognised browser or device. It has to be noted that the group handling the challenge would hack all personal accounts of the player, and will threaten if they plan to quit in between.
More victims?
The mother of an ITI student, Sawant, who hails from Kannur, has also claimed that her son used to play the deadly game. The family members, who had noticed his unusual behaviours, hint that he used to play games and went alone at night. Few photos prove that Sawant had harmed himself by causing injuries to his hands and chest. The youngster was found dead in May 2017.
Meanwhile, a Facebook user named S Sarojam has claimed that a similar game has taken the life of her son on June 16, 2006.
The boy had attempted to end his life five times before, and the admin used to give him several ideas on how to commit suicide. "While he was treated in ICU, he opened up about the game and his computer desktop has images of celebs who had committed suicide. He had promised not to hurt himself, but one day he deleted every proof and ended his life. I wanted to tell about this dangerous game to the entire world but didn't so that the game won't reach many others [translated from Malayalam]," reads the social media post.
If these Keralites had committed suicide because of the challenge, then the Mumbai teenager will not be the first victim of Blue Whale Challenge in India.
However, while addressing a press conference in Thiruvananthapuram on Wednesday, IG Manoj Abraham said that though two similar cases have surfaced in the past 24 hours, the investigators could not officially confirm its connection with the game.
Kerala govt takes action
Recently, Kerala Chief Minister Pinarayi Vijayan had requested the Centre to take necessary action to ban the Blue Whale Challenge in the country. Latest reports suggest that the Centre has directed Google, Facebook, Whatsapp, Instagram, Microsoft and Yahoo to immediately remove the links of the challenge from Internet.
Blue Whale Challenge deaths so far in India
After the Mumbai boy, a 13-year-old boy was reportedly saved by his friends from jumping off a building in Indore. Last week, the challenge had also reportedly claimed the life of a class 10 student from West Midnapore.
What is Blue Whale Challenge?
In the challenge that has 50 levels, certain tasks will be assigned to the player each day, and it includes like watching horror movies late night, waking up early morning, harming oneself by tattooing with a knife or boarding a crane machine, among many others. It will be followed by few dangerous tasks leading to a death trap that forces the players to finally commit suicide.