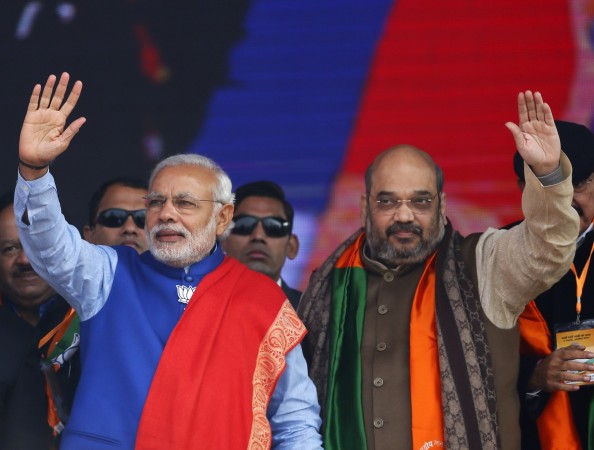 The Bharatiya Janata Party is all set to lead into the 2019 Lok Sabha elections with an upper hand. The party is set to appoint an in-charge for each of the 543 Lok Sabha seats to ensure they stay ahead of their rivals.
The BJP is also in the process of setting up an 11-member committee in each state to look into 13 specific assignments related to the state.
We are getting ready for polls. The earlier we start preparing, the better the understanding we will have of our strengths and weaknesses. The party intends to win in 2019 with a margin bigger than in 2014," a BJP leader was quoted as saying by Hindustan Times.
"The Modi-Shah duo lay a great focus on organizational work. The entire exercise is to fine-tune the organization for the next challenge," another BJP leader said.
The news regarding the appointment of heads was confirmed by a party member privy to the matter. The in-charge, or prabhari, will oversee each Lok Sabha constituency from outside.
Following this, the 11-member panel called "Chunav Taiyari Toli" (election preparation group) will look into 13 specific assignments related to the state and ensure that the BJP remains one step ahead of its rival parties, reports HT.
This is not the first time that a political party has utilized this strategy to prep for elections. The model has been followed by Bahujan Samaj Party for several years.
The BJP is gearing up to tackle several challenges with its strategy and ensure a debacle like Karnataka elections does not happen again.
Party chief Amit Shah has already started his tours by visiting Chhattisgarh on June 10, followed by several other states to review the preparedness of the BJP's state wings for the upcoming elections.
The party has requested a detailed report, from each state wing, on various pressing issues concerning the state, strategy of the opposition including alliances, among other moves, to ensure a stronghold in the upcoming elections.
The BJP also looks forward to taking the campaign to social media as it will appoint three-member social media team in the run-up to the upcoming Lok Sabha elections in 2019.